How Unsafe Right Turns Cause Truck Accidents
Truck driver negligence contributes to the more than 200 fatalities and 5,000 serious injuries in California trucking accidents each year. Next to speeding, improper turns – notably swinging turns – are the number two cause of these truck smash-ups. In the state of California, a tractor trailer may not exceed 75 feet in length, but that is still a significant amount of space required to make a turn. Right hand turns can be especially tricky when curbs, utility or light poles, and sharp 90-degree angles are involved. It requires driver skill, training and awareness to accomplish this type of turn safely.
Dangerous right turns
Serious collisions often occur when other vehicles squeeze along the right side of a truck to pass or make a right turn while the big rig is turning. According to WTA Trucking, "in over 90% of right turn squeeze situations, either the truck driver is cited for unsafe turning – or, without a citation issued, the trucking company still must pay for the damage to the other vehicle."
Examples of truck driver error include:
Setting up wide or swinging too wide when making a right turn
Failure to use a turn signal turn
Failure to slow down while going into the turn
To avoid accidents, truckers must be aware of the other cars on the road and the types of situations that encourage passing on the right – such as wide streets, bike paths, and wide shoulders. Truckers should use their signals and their mirrors, navigate the turn at a reasonable speed, and avoid swinging turns whenever possible.
Swinging turns
"Swinging turns" represent one of the most common types of dangerous right turns. They occur when there are tight corners (often with obstructions like poles in the way), causing the commercial truck driver to swing outside the lane – either into the left lane or slightly over the double yellow lines into oncoming traffic — to orchestrate the turn. An error made on a swinging turn may result in a rollover crash, as it hits an oncoming vehicle, or a side-swipe of a passenger vehicle caught in the blind spot while attempting to pass.
Truck driver negligence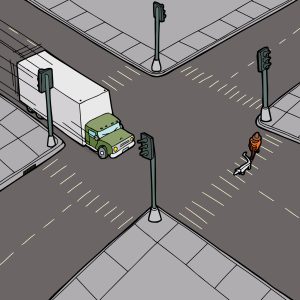 Poor driving skills are not the only cause of dangerous right turns. Truck driver negligence may also include:
Speeding
Distracted driving
Poor driver training
Driving under the influence
Failure to signal while making a turn
Failure to yield the right-of-way
Overloading the trailer, which makes steering difficult
Improper load securing, which causes weight imbalances and unnecessary swerving
Faulty brakes, non-functioning brake lights / signals, or other inadequate truck maintenance
Determining fault in California
In addition to holding a driver liable, victims of California truck accidents may also be able to hold the trucking company liable. Sometimes sub-contracted cargo loading companies or those responsible for vehicle maintenance and inspection can also be on the line for serious injuries or wrongful death.
California is a comparative negligence state, meaning that you may still recover damages, even if the judge or jury find you were partially liable. The total award or settlement will be reduced based on the percentage you were at fault. For instance, if you suffered $100,000 in damages but were considered 60% at fault for attempting to pass on the right shoulder, you may still recover $40,000 from the wide-swinging trucker who made the turn.
Lawsuits involving 18 wheeler rigs and dangerous turns
The Southern California truck accident attorneys of Salamati Law have successfully helped Californians injured in car and truck accidents since opening our Los Angeles office on South Figueroa Street in 2005. We understand the devastating toll serious injuries can take on a family in terms of physical, financial and emotional pain.
In addition to compensation that covers these losses, a successful personal injury lawsuit can recover damages for:
Lost wages
Diminished future earning capacity
Disability-related expenses
Loss of guidance/consortium/companionship
Funeral expenses
No amount of money can undo the damage that has been done, but it can provide some measure of comfort as you recover from your injuries.
Big rig dangerous right turn resources
WTA Trucking – Right Turn Squeeze https://www.wtatrucking.com/PDFs/Safety_RightTurnSqueeze.pdf
NHTSA, ENDANGERMENT OF PEDESTRIANS AND BICYCLISTS AT INTERSECTIONS BY RIGHT TURNING TRUCKS, http://www-nrd.nhtsa.dot.gov/pdf/esv/esv19/05-0344-O.pdf