Tractor-trailers play an important role in American commerce, transporting goods and supplies across the map. In terms of physics, it takes a lot of energy to move these behemoths, and when they are involved in an accident, it is the occupants of smaller vehicles that tend to suffer the most from the impact. A special risk of these semi trucks is jackknife incidents, which send trucks careening without control.
Those injured in jackknife truck accidents are often innocent motorists sharing the road with trucks. These serious accidents happen in an unexpected instant, irrevocably changing the lives of those involved. Los Angeles truck accident attorney Sean Salamati fights tirelessly for the rights of truck accident victims in order to obtain maximum compensation on their behalf.
What is a jackknife accident?
A jack knife accident occurs when an articulated truck – a truck with separate sections that have a pivot point, such as a cab and trailer – swerves and the truck's sections fold like a pocket knife.
When a truck jackknifes, it loses the ability to steer along a straight path. When a truck weighing up to 80,000 pounds loses control in a jackknife situation, another major risk is that it will roll over. The jackknifing truck therefore poses a threat to the vehicles around it, often leading to serious or fatal injuries.
Common causes of a jackknifed truck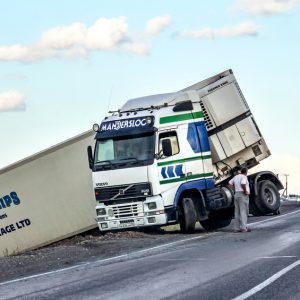 A jackknife can be caused by many factors, including equipment failure, driver error, and poor road conditions. The most common cause, however, is improper braking. Large commercial trucks have more complicated braking systems that smaller passenger vehicles, with three different types of brakes. If the wrong type of brakes are applied, steering can become difficult or the front wheels can lock, while the rear wheels keep moving.
Damage caused by jackknifed semi-truck accident
Jack knifed trucks traveling at high speed can take out anything in their path and trigger multi-car collisions. There are reports of these accidents crushing cars on the road and even causing structural damage to overpasses and freeway barriers.
The significant size disparity between tractor-trailers and most non-commercial vehicles on the road tends to lead to serious injuries for those involved. The worst cases involve fatal injuries.
Many others lead to serious or disabling conditions such as:
Spinal cord injuries that can lead to paralysis
Traumatic brain injuries
Skull fractures
Internal injuries
Broken bones
Preventing a jackknife truck accident
There are steps a truck driver can take to prevent a jackknife from occurring. The truck driver is in sole control of most of these areas:
Proper loading
Correct braking techniques, including a gradual slow-down
Careful judgments in handling the vehicle, like avoiding applying the brakes on a downhill curve and deciding when to use the engine brake
Using side mirrors to keep an eye on the movement of the trailer
Proving who is at fault for a jackknife accident
Even though it is the truck driver who has the opportunity to prevent a jackknife from occurring, there are other parties who may ultimately be responsible. This includes, but is not limited to:
Contractors responsible for the vehicle's maintenance
Other individuals or parties who may have caused a traffic disruption leading to the accident
Complicating matters, these cases often involve parties from separate states, landing them in federal court. They are also fact-specific and technical, requiring expert witnesses to explain to a jury how the accident happened. An experienced truck accident lawyer is skilled in digesting all of these factors to present a clear timeline of the event to prove the elements necessary to win the case.
What kind of settlement can a jackknife accident attorney help you recover?
Settlements or jury awards take into account a number of factors, including the degree of impact the accident has on the lives of the victims and their families and whether any of the parties acted recklessly.
Compensation may include payment for:
Medical bills, both past and future
Rehabilitation costs
Costs associated with disability
Lost wages
Emotional distress
Pain and suffering
Impairment of marital relations
In the case of wrongful death, funeral expenses and financial support for the surviving family
How a jackknife truck accident lawyer can help
Jack knife truck accidents can leave a wake of devastating effects for victims and their families. If your life has been affected by one of these traumatic accidents, a semi truck jackknife accident lawyer can help you make your way through the financial recovery process, easing the impact on your life.
Los Angeles truck accident attorney Sean Salamati is committed to providing injured parties with aggressive representation. We work with a team of experts to build a rock-solid case to maximize your compensation.
We work most cases on a contingency basis, meaning you do not owe us a fee until we achieve financial compensation on your behalf. Call today to schedule a free confidential case review.
Additional Jackknife Truck Accident Resources:
National Highway Transportation Safety Administration, Large Truck Crash Causation Study, http://www-nrd.nhtsa.dot.gov/Pubs/810646.pdf
Insurance Institute for Highway Safety, Large Truck Crashes, http://iihs.org/iihs/topics/t/large-trucks/fatalityfacts/large-trucks