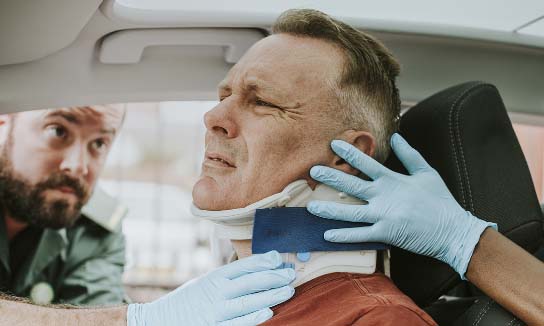 If you are seriously injured in an accident, you may be inundated with medical bills, miss time from your job, and see your relationships with loved ones suffer. If this has happened to you, contact us at Salamati Law. We take pride in fighting for justice for Southern Californian residents who have been hurt through no fault of their own. Contact us today for a free consultation. We're happy to answer your questions.
Personal Injury Cases that Salamati Law Handles
There are many different types of personal injury accidents, but some of the most common are:
Car, truck, bus, motorcycle, taxi, and pedestrian accidents at the intersection of Rosemead Boulevard and Whittier Boulevard
Slip and fall or trip and fall accidents at the Pico Rivera Historical Museum. Contact a slip and fall lawyer if this has happened to you
An animal attack at a relative's birthday party in Bartolo
A construction accident in McCampbell
Medical malpractice arising from a visit to Rio Hondo Medical Plaza
What to do Following Your Accident
Here are some steps that you can take after you have been injured to help your Pico Rivera personal injury attorney maximize the amount of financial compensation you receive:
Ensure the accident is documented, whether by filing a police report for a motor vehicle accident or an incident report at the business where you slipped and fell.
Seek medical attention as soon as possible, even if you do not think you need it. Some injuries will not surface until your adrenaline subsides hours later. By waiting too long, you may be undermining the amount of financial compensation you ultimately receive. The defendant can argue that you were not seriously injured, or the injury was not caused by this accident.
Take pictures of everything that might be useful in your claim, including your injuries, property damage, and the accident location.
Collect the contact information of any eyewitnesses to the accident, and if warranted– a wrongful death lawyer will follow up with them. 
If possible, delete all of your social media accounts. If you cannot do that, then make sure that nobody tags you– relating to your accident or injuries.
During the pendency of your case, assume at all times that a private investigator is following you. This is a common tactic utilized by insurance companies.
Finally, schedule a consultation with an experienced personal injury lawyer in Pico Rivera as soon as possible. The insurance company will almost immediately present a settlement offer. It is usually far below the true market value of your claim. They hope you will accept that offer and thereby minimize your financial recovery. By consulting with an experienced personal injury attorney in Pico Rivera at Salamati Law, you will learn the approximate fair value of your claim.
Personal Injury Attorney in Pico Rivera, CA
For over a quarter of a century, our attorneys at Salamati Law have been standing up for the rights of personal injury victims. One client suffered a mild Traumatic Brain Injury (TBI) in a motorcycle accident, and we were able to secure a $2 million settlement on their behalf.
If you have been injured in an accident– caused by the negligence of another person or entity– call us today to book a free consultation with a personal injury attorney in Pico Rivera, CA. Your case will be handled on a contingency fee basis, meaning you will never receive a legal bill from us unless you win your case.