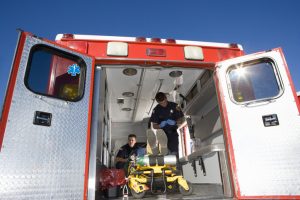 When someone suffers a serious injury and it is caused by another's careless or intentional act, a natural sense of justice says that the at-fault party should be partially or fully responsible for the financial consequences. However, the hospitals and other care providers do not care about this – it is the injured party who will receive the out-of-pocket medical bills and potentially face debilitating economic strain. The law leaves it up to those injured to pursue the compensation to which they are entitled.
What happens after a serious accident in California
Unfortunately, we see the same patterns over and over again when clients from across Southern California visit after a severe injury. The injured party seeks medical care and any portion not covered by their medical insurance becomes their responsibility.
The medical bills may be difficult to pay on their own, but the situation compounds when the injury requires time off from work. Other expenses that add to the problem often include:
Rehabilitation sessions
Professional medical equipment
Labor costs involved in hiring workers that cannot be performed due to injury – this can include additional childcare providers to support single parents,, contractors to perform work that small business owners cannot complete, or even handyman services for basic home maintenance
These costs quickly grow, leading to what often feels like a mountain that is impossible to climb.
Financial effect of an accident
Even the most common accidents can lead to financial strain. Simple car accidents averaged $15,000 in medical bills in 2013, and serious and fatal accidents result in far higher bills that can top $1 million. According to the CDC, the average hospital cost following a fall injury is over $30,000.
As discussed earlier, the medical bills are just the tip of the iceberg following a serious injury. Because of the seemingly endless financial trap, many accident victims are tempted to accept a low-ball offer in order to pay bills as soon as possible – but this often means settling for far less than the case is worth and potentially not having the resources to meet all obligation.
Fighting for full compensation in Los Angeles
Statistics show that those who work with a personal injury attorney receive significantly higher compensation than those who do not. Dedicated LA accident attorneys help by working with experts to analyze, understand, and explain the factors that caused the accident and resulting injury, as well as why the defendant should be held responsible.
The Southern California personal injury attorneys at the Salamati Law Firm are committed to helping those who have suffered a serious injury obtain maximum compensation for their injuries. We put clients' needs first, aggressively pursuing those who have caused harm in order to make things as right as possible.
If you or a loved one have been injured in an accident and believe someone else is to blame, call the Salamati Law Firm today. We always offer complimentary confidential consultations.
Additional resources on the financial impact of an accident:
Centers for Disease Control and Prevention, Costs of Falls Among Older Adults, https://www.cdc.gov/homeandrecreationalsafety/falls/fallcost.html
Rocky Mountain Insurance Information Association, Cost of Auto Crashes & Statistics, http://www.rmiia.org/auto/traffic_safety/Cost_of_crashes.asp