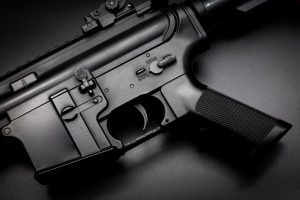 In early October, Stephen Paddock killed 58 people and injured hundreds more when he opened fire from a hotel window in Las Vegas, Nevada. Recently, lawsuits began to be filed against multiple parties, among them the manufacturer of the bump stock that made his AK-47 semiautomatic gun into a weapon that acted like an automatic rifle, and thus capable of firing more rounds of ammunition more rapidly.
At least one of Paddock's guns was fitted with a bump stock manufactured by Slide Fire Solutions, which is based in Texas.
Slide Fire One of Several Defendants Named in Suits
The first lawsuits have been filed by victims in the shooting incident, which targeted attendees at a country music festival across from the Mandalay Bay Resort and Casino. The owners of the hotel are also named as defendants in the suits, as are the promotors of the Route 91 Harvest music festival and Paddock's estate.
One was filed by Paige Gasper, a 21-year-old Californian who is enrolled at Sonoma State University. Gasper was treated for broken ribs and lacerations of the liver.
It was filed in Nevada's Clark County District Court. Regarding Slide Fire, the suit says the company did not provide sufficient instructions regarding how to operate bumpstock devices and failed to warn of the dangers bump stocks can represent.
A class-action suit against Slide Fire was also filed by The Brady Center to Prevent Gun Violence, a gun control organization.
Hundreds more personal injury and wrongful death suits are possible as a result of the shooting.
Personal injury suits can allege liability if a reasonable person would conclude that a responsible party knew or should have known that something was dangerous, had sufficient time to rectify the danger, and did nothing about it.
Past Lawsuits Against Gun Manufacturers Largely Unsuccessful
In the past, however, suits filed against gun manufacturers have not been successful. Why? Federal laws often protect manufacturers from liability. The Protection of Lawful Commerce in Arms Act, for example, has been law since 2005 and protects manufacturers and sellers of guns from civil claims.
Family members of those killed in the Sandy Hook Elementary School shooting brought suits against the gun manufacturer, Remington Arms. The lawsuits were dismissed because of the Act.
Lawsuits against venues are more common. The early suits against Mandalay Bay allege that they should have noticed the many pieces of luggage and other items Paddock brought into the hotel, among other factors in the shooting. The items he brought in over several days contained multiple guns.
Victims of the Orlando mass shooting have also brought suits against the victim's employers. Those suits are currently pending.
Shooting Victims Can Contact Southern California Personal Injury Lawyer Sean Salamati
The Salamati Law Firm has years of experience litigating personal injury and wrongful death cases. If you were injured in the Las Vegas shooting in October, or if a loved one was injured or killed, don't delay in contacting Sean Salamati, a dedicated, compassionate Los Angeles personal injury lawyer.
Your initial consultation comes at no cost and no obligation to you. Our firm charges you no fee unless we win your case. Call today and take the first step toward justice for the victims of this terrible tragedy.
Additional "Las Vegas shooting lawsuit" Resources:
Castro, Karen. "Third Lawsuit Filed by Victim of 1 Oct. Mass Shooting." LasVegasnow.com. October 13, 2017. http://www.lasvegasnow.com/news/third-lawsuit-filed-by-victim-of-1-oct-mass-shooting/835131378.
Lee, Kurtis and Jaweed Kaleem. "Las Vegas Survivors Take Aim At 'Bump Stock' Maker as Lawsuits Begin." Los Angeles Times. October 12, 2017. http://www.latimes.com/nation/la-na-las-vegas-lawsuits-20171012-story.html.