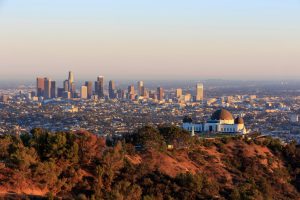 You've probably heard the old saying that nobody walks in L.A. Even popular songs have been penned on the topic. Boasting a population of nearly 3.8 million, the urban sprawl of Los Angeles is dominated by vehicles. Residents seem deeply attached to their cars, despite the mind-numbing traffic that is so prevalent.
Next time you get fed up with the gridlock, or simply want some fresh air while getting from points A to B, consider these top urban strolls in the City of Angels.
LA River Greenway
Thanks to impressive "greening" efforts, the Los Angeles River is the perfect destination for a leisurely stroll and picnic. There are several starting points from which to embark on different sections of the River: Griffith Park, Sepulveda Basin, the Long Beach bike path and the City of Glendale Riverwalk. The greenway offers numerous trails for walking, biking and even horseback riding. For a scenic 2.3-mile meander, begin your walk at Sherman Oaks at the intersection of Valleyheart Drive and Fulton Avenue. On this easy loop, you'll follow the riverside trail, cross over Moorpark, Sunnyslope and Allott Avenues before returning back to Fulton. Bring your canine companion on this picturesque stroll!
Mural Mile
Until a few years ago, the area around Van Nuys Boulevard and Pacoima featured nothing more than your typical restaurants, shops, gas stations and churches. Now, this urban stretch has been transformed into an exciting art destination brimming with colorful murals painted on building exteriors. The notion to beautify this otherwise non-descript part of the city was headed up by Pacoima resident Levi Ponce, who encouraged local artisans to work their magic. You can enjoy the vivid sights of "Mural Mile" by starting at Van Nuys Boulevard and Herrick Avenue. There you'll see a mural of a Tongva medicine woman dreamed up by an all-female group of HOOD-sisters. The amble continues on to Ponce's mural, Lady of the Valley, near Arleta Avenue. The path is about four miles roundtrip.
Hollywood Bowl & Hightower Loop
Architecture buffs take note! This loop takes you through a secluded section of Los Angeles boasting some historical locations, unique architecture (some buildings by Frank Lloyd Wright), and plenty of lush, beautiful scenery. Pass by the Highland Towers apartments where William Faulkner supposedly wrote film adaptations of Raymond Chandler and Hemingway. The path wends through alleys and pretty residential areas, providing spectacular vistas of the Alta Loma tower. When you've finished the loop, stop by the Wine Bar at the Hollywood Bowl for some well-deserved refreshment.
Legal help for pedestrians in Los Angeles
For all its natural beauty and urban charms, L.A. is still far from being a pedestrian-friendly city. According to the National Highway Safety Administration, 20 percent of all traffic fatalities in California involve pedestrians. In the greater L.A. metropolitan area, pedestrian fatalities account for a staggering 40 percent of all those killed in vehicle crashes.
When a family member of loved one is harmed in a pedestrian accident, the consequences can be life-altering.  Here at the Salamati Law Firm, we have the investigative skills and legal expertise to ensure that justice is served. Put our experience and dedication to work for you. Call our offices today to schedule a free case review with a Los Angeles pedestrian accident lawyer who fights for maximum compensation.
Additional Resources on Los Angeles Walking Routes:
LA Times, Los Angeles Walks http://www.latimes.com/health/la-he-walks-sg-storygallery.html
LA Mag, 10 Unconventional L.A. Walks You'll Actually Want To Take http://www.lamag.com/citythinkblog/10-best-l-a-walks/
Trail Link, LA Trails and Maps https://www.traillink.com/city/los-angeles-ca-trails/