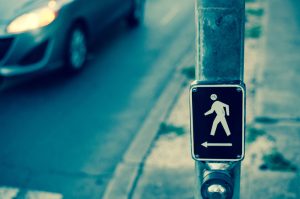 LA Times analysis revealed that nearly a quarter of traffic accidents occur at less than 1% of the intersections in LA. There is a disproportionately high rate of collisions in the high-density zones between Hollywood and Downtown Los Angeles. Pedestrians were injured in 1 in 10 traffic LA accidents from 2002-2013, and represented 35% of the fatalities. Over the last five years, city officials have added 200 miles of bike lanes, designed more high-visibility crosswalks, and promoted mass transit. However, urban planners say the city still has a long way to go.
Here are some of the most dangerous intersections for pedestrians in LA:
West 7
th

 St. & Spring St. – Los Angeles (90014)

LA Walks listed 7th & Spring as one of the most dangerous intersections for pedestrians in Los Angeles. This bustling location in downtown's Fashion District is a few blocks from the Orpheum Theatre, the LA Live complex, Regent Theater, and Whole Foods. Four-lane, one-way streets present a challenge for walkers to complete their journeys in the allotted time. Speeding drivers going 45 mph frequently run red lights to avoid sitting at the "long" light. On average, 51 pedestrians are hit by cars in this intersection each year, according to a 2015 report. Some say lax police enforcement for motorists at this intersection is to blame. Others say the lights need to be reprogrammed to be more walker-friendly.
Devonshire St. & Reseda Blvd. – Northridge (91324)
The Devonshire Reseda Shopping Center attracts a lot of foot traffic with hair and nail salons, pet supply centers, coffee shops, a health club, dentists, dry cleaners, Walgreens, and a variety of restaurants. In 2015, there were 24 accidents resulting in 41 injuries. Fortunately, no one was killed, but some of the injuries have been severe. For instance, 33-year-old Olivia Almalel suffered spinal cord injuries after her Christmas Day pedestrian accident at Reseda and Devonshire in 2008. DOT engineers Nat Gale and Tim Fremaux are pushing for recommendations that would take pedestrian fatalities down to zero, such as: adjusting turn lane lights, changing lane striping, and tweaking pedestrian cross signals.
Slauson Avenue & Western Avenue – South LA (90047)
Multiple strip malls with shops like Home Depot, Big Lots, Little Caesars, Cash Express, and Walgreens are situated in this part of Southern Los Angeles, making it a hub of pedestrian and automobile activity. From 2002-2013, 41 pedestrians were struck by cars at Slauson and Western. In less than one year's time (November 2014 – October 2015), there were six hit-and-run collisions. Urban Planner Deborah Murphy, head of Los Angeles Walks, says there is much work to be done here, in an area where pedestrians must cross five lanes of traffic for a total of 70 feet to reach safety. Adding taller buildings or arching trees and installing sharper curbs can force drivers to drive slower, while adding wheelchair and stroller ramps could streamline pedestrian traffic movements.
Find out what a Los Angeles personal injury attorney can do for you!
Crash investigators find that roughly 43% of drivers are at-fault in pedestrian/vehicle accidents. They may have been distracted by a cell phone at the time, speeding, running a red light, or driving while intoxicated. Other times, city officials knew of the dangers and failings of the crosswalk, but failed to act. A good personal injury lawyer in Los Angeles can help you build a case to win compensation for your injuries. You can receive money to cover all medical bills, lost time off work, reduced earning capacity, as well as emotional pain and suffering. Family members may be eligible to collect for funeral expenses, loss of companionship, and reductions in income.
The Salamati Firm has been serving area residents for more than 20 years, with some big case results – including $2 million for a bicyclist hit by a car and $906,000 for a pedestrian struck by a truck. Contact us for a free, no-obligation case review.
Additional Resources for Dangerous Pedestrian Crossings in LA: