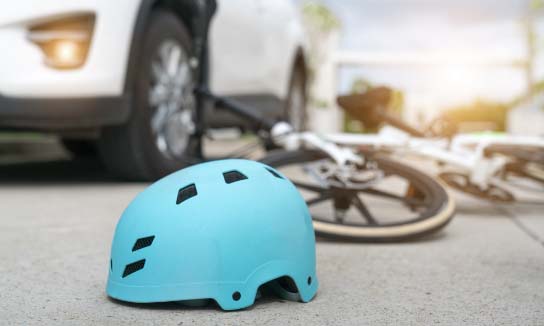 A bicycle accident in Norwalk has the potential to result in life-altering injuries. The victim may experience long-term physical, financial, and emotional repercussions. A Norwalk personal injury lawyer from Salamati Law could help. We are experienced advocates and have dedicated our practice to helping our clients get the compensation they deserve. Contact us today to schedule a free consultation with a Norwalk bike accident lawyer.
Compensation for your injuries
As noted above, and according to bike accident statistics, victims can be seriously hurt. Chronic pain, costly medical expenses, and lost wages are only some of the issues they face.
A Norwalk bike accident attorney could help secure compensation for your injuries, including:
Lost wages. When you suffer a severe injury in a bicycle accident, you might be unable to work for an extended period. Your personal injury lawsuit can help you replace those lost wages.
Medical bills. Medical care is costly in the aftermath of a bicycle accident. In addition, there might be a need for long-term rehabilitative care. A civil lawsuit would help recover past and future medical costs.
Property damage. When bikes and motor vehicles collide, the bicycle typically gets the worst of it. There may be costly repairs or the need to replace a damaged bike entirely.
There are too many variables to make it possible for an attorney to predict with certainty what your case might be worth. However, a Norwalk bicycle accident lawyer from our firm could advise you on the best possible outcome.
Tap Here to Call Our Office Now
What to do after a bike accident
The steps you take following an accident may have an impact on your health as well as your personal injury case. Here are some of the things you can do:
Seek medical care. Even if you feel your injuries are minor, it is crucial that you see a doctor right away. What's more, you should always keep up with and document the treatment prescribed by them.
Obtain information. It is crucial that you obtain identifying information from the driver. That includes their name, insurance information, and driver's license number.
Document the scene. Collect as much evidence as you can at the location of the accident. Identify witnesses and get their contact information. In addition, take pictures of the car that struck you, road conditions, and even nearby businesses. The latter is important because surveillance video may have captured the accident.
Talk to an attorney. Few steps are as vital as speaking to a bicycle accident attorney in Norwalk. We can help you maximize your chances of financial recovery.
Unsure of your next steps in the aftermath of a bike accident? Schedule a consultation with us. We're happy to advise you.
Contact a Bicycle Accident Attorney in Norwalk, CA for a Free Consultation
If you sustained injuries in a Norwalk bike crash, our firm is ready to help. The attorneys of Salamati Law could ensure that you maximize your financial recovery by aggressively pursuing your injury claim. In addition, we work on a contingency basis—so there are no upfront legal fees.