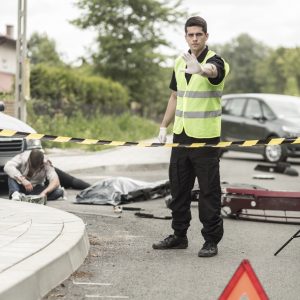 In the early morning hours of Saturday, June 4, California Highway Patrol officers were flooded with phone calls reporting a wrong-way driver on the westbound 101 Freeway. By the time authorities arrived on the scene, the driver had crashed head-on with an oncoming vehicle, and succumbed to life-threatening injuries. The driver, a 25-year old man whose name has yet to be released, was pronounced dead at the scene. The driver of the vehicle hit by the wrong-way motorist suffered minor injuries, and was taken to Cedars-Sinai Medical Center.
The head-on collision, which occurred just west of Tujunga Avenue, caused serious traffic delays on the 101 for several hours, as crews removed debris. According to ABC 7 News, the name of the deceased is being kept confidential pending notification of the victim's family.
Law enforcement officials have not yet announced if investigations indicate why the man was driving the wrong way on a busy California freeway. According to the National Transportation Safety Board (NTSB), though wrong-way collisions rarely occur (accounting for a mere three percent of all traffic accidents on divided highways), they are much more likely to culminate in fatal injuries. In fact, one Virginia study found that the fatality rate was 27 times greater in wrong-way collisions compared to any other type of car accident.
Intoxication a top factor in wrong-way accidents
In light of the growing incidence of wrong-way collisions throughout the nation, the NTSB issued a special investigative report that underscored common characteristics and trends in these accidents. Unsurprisingly, the bulk of wrong way drivers are impaired by alcohol at the time of the crash, as drunk driving remains one of the most common causes (nearly 70 percent) of wrong way crashes.
Other incidences of wrong-way driving can be attributed to reckless behavior or simple negligence, though the NTSB found these factors to be a common thread in wrong-way accidents:
Accidents typically occur between 6pm and 6am when visibility is poor
Highways lack clear directional markings or have confusing signs
Some wrong-way movements involve a driver who inadvertently enters an exit ramp
Many wrong-way drivers are elderly or impaired
In California, an average of 23 deaths each year is attributed to wrong-way driving, according to a Caltrans report.
Liability in head-on collisions
This recent 101 Freeway accident highlights the catastrophic ramifications of wrong-way driving and head-on collisions.
Besides wrong way drivers, some of the leading causes of head-on crashes include:
Poor weather
Excessive speeding
Impairment from alcohol or drugs
Road hazards
Drowsy driving
Vehicle defects
In accidents where a negligent driver operates their vehicle while under the influence, or recklessly drives in the wrong lane, they have clearly endangered the lives of other motorists and may be held liable for ensuing injures and damages. Victims who pursue litigation can hold negligent parties liable for bodily injury, medical expenses, property damage, or death resulting from the crash.
After a serious car accident, it's important to ally yourself with an experienced car accident attorney in Los Angeles who can identify liable parties and ensure you're compensated for all damages and losses. Sean Salamati is a veteran litigator with over two decades of experience handling claims stemming from head-on collisions and other types of traffic accidents.
Contact the Salamati Law Firm at 888-259-4060 to schedule a free legal consultation today.
Resources
ABC7 News, 1 DEAD, 1 HOSPITALIZED IN FATAL WRONG-WAY CRASH ON 101 FWY
http://abc7.com/news/1-dead-1-hospitalized-in-fatal-wrong-way-crash-on-101-fwy/1371442/
ABC10News, Team 10: Wrong-way crashes causing concern on San Diego freeways http://www.10news.com/news/team-10/team-10-wrong-way-crashes-causing-concern-on-san-diego-freeways-020816
NTSB, Highway Special Investigation Report, http://www.ntsb.gov/safety/safety-studies/Documents/SIR1201.pdf