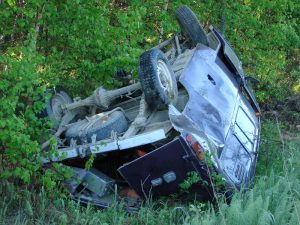 Traffic deaths saw a sharp uptick during the first half of 2016, according to data collected by federal traffic authorities. The National Highway Traffic Safety Administration (NHTSA) has discovered a 10-percent increase in traffic deaths between 2015 and 2016, marking the largest jump in traffic fatalities in the past 50 years. The increase in fatalities has been seen among pedestrians and bicyclists as well as motorists, according to the latest numbers.
The new data, which was released in the October issue of Traffic Safety Facts, estimated that nearly 18,000 people, or 1.12 for every million people in the U.S., died in motor vehicle accidents from January to June this year. That compares to the same time frame in 2015, when almost 16,000 people, or 1.05 for every million people, lost their lives. The years both show increases in deaths over previous years, including the first six months of 2011 when an estimated 15,000 people died.
The researchers noted that the last seven calendar quarters have seen increases in traffic fatalities when compared with the corresponding quarter for the previous year. There appears to be a number of factors that might be contributing to this alarming trend, although researchers warn that those factors may become more apparent when final numbers are available in late fall of 2017. In the meantime, highway officials are examining some early clues into what might be driving this unfortunate trend.
Factors at play
The National Safety Commission has noted that the improving economy, which has led to higher employment rates and cheaper gasoline, may be one of the factors contributing to the higher mortality rates on the nation's roadways. When the economy is slow, fewer people tend to be out and about going to work and other obligations. When the economy picks up, so do the miles logged on the nation's highways.
The Federal Highway Administration has linked the increase in fatalities to an increase in miles traveled. During the first six months of 2016, the number of vehicles traveling on U.S. roadways increased by 50.5 billion miles, which is a 3.3 percent increase in miles traveled since the previous year.
Other factors that routinely contribute to increases in traffic fatalities include driving under the influence, distracted driving and speeding. At this time, it is too early to know exactly how much of a role these common factors may have played in the latest numbers.  However, that information should be available later next year, which will help officials determine whether further steps might need to be taken to reduce these risks.
Bicyclist and pedestrian fatalities
Researchers also noted that a rise in fatalities among pedestrians, bicyclists and motorcyclists could have contributed to the increase in traffic-related fatalities – at least during 2015. During this year alone, there was a 12.2 percent increase in bicycle accident fatalities and a 9.5 percent increase in pedestrian fatalities. Walking and biking to work have become increasingly popular modes of transportation as one million more people have been walking to work since 2005.
While people may opt to walk or bike to work for health reasons, the danger of such activity also needs to be noted. Many cities do not have designated lanes for walkers or bikers, which can bring them much closer to the street action than what is considered safe. These additional lanes can be expensive for cities, which is why many do not offer them. However, studies have shown that designated lanes can lower the incidence of pedestrian death and serious injury.
If you have been injured in an motor vehicle accident in Los Angeles, The Salamati Law Firm is here to help. Our Southern California car accident lawyers help navigate the complex legal system to ensure your rights are protected and just compensation is obtained. Schedule a free case evaluation by calling 888-259-4060.
Resources:
National Highway Traffic Safety Administration, Early Estimate of Motor Vehicle Traffic Fatalities for the First Half (Jan-June) of 2016, https://crashstats.nhtsa.dot.gov/Api/Public/ViewPublication/812332
KQED, With Rising Number of Highway Deaths, California Bucks National Trend, https://ww2.kqed.org/news/2015/11/24/with-rising-number-of-highway-deaths-california-bucks-national-trend/