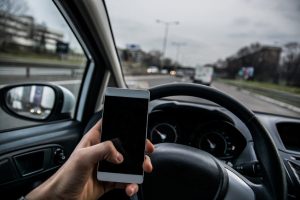 Pokemon Go, the popular augmented reality game, has proven itself to be one of the most played apps of all time since its introduction this past summer. Unfortunately, not all the news regarding the app has been positive, however. The game has recently been linked to a slew of car and pedestrian accidents, indicating the distraction of the game might be too much for some players trying to "catch 'em all."
Researchers have actually taken a closer look at the potential danger surrounding Pokemon Go. Scientists from San Diego State University studied the effects of the app on car crashes around the country. They specifically looked at the association between July 10 and July 19, when the game was first introduced to the general public.
Study uses news, social media reports
The study, which was published in the journal JAMA Internal Medicine in September, used social media and news reports to collect data involving both motorists and pedestrians that were distracted by the game. Researchers found a total of 350,000 tweets that referred to both "Pokemon Go" and "driving a car." A random sample of 4,000 of those tweets indicated the person playing the game was driving a vehicle, a passenger in a vehicle or a pedestrian interacting with traffic at the time of play.
Approximately one-third of those tweets suggested the player was distracted by the game. Although some of the tweets were perceived as jokes, researchers determined that around 114,000 traffic incidents were reported on Twitter within that 10-day time frame. Researchers also scanned Google News reports during that same time and found 321 stories referring to car crashes involving Pokemon Go.
"Pokemon Go is a new distraction for drivers and pedestrians, and safety messages are scarce," researchers concluded. They are hoping their findings will motivate policy makers and game developers to take steps to make this game, and others like it, safer for play. For example, game manufacturers could make the game inaccessible once a certain driving speed is reached. Currently, Pokemon Go asks players if they are a driver or passenger when the vehicle moves faster than 10 miles per hour. The game also displays numerous warnings when the app is first launched.
Distracted driving a major concern
At a time when concerns have been on the rise over the potential risk of distracted driving, games like Pokemon Go are just one more factor to consider. Victims of distracted driving accidents may see their lives change in a matter of seconds, as they are sometimes left to deal with debilitating injuries or even the loss of a loved one as a result of these crashes.
When a driver is found to be at fault in an accident due to distracted driving, whether from texting, talking on a phone or playing a game, they can be held liable for the victim's injuries and other losses. However, it takes experienced legal guidance to prove the driver was distracted and pursue maximum monetary damages.
If you or someone you love was injured in a traffic accident due to Pokemon Go or another distraction, help is available. Contact Los Angeles car accident attorneys at The Salamati Law Firm for a free case review and answers to all of your legal questions. Contact us 24/7 at at 888-259-4060.
Resources:
JAMA Internal Medicine, Pokemon Go: A New Distraction for Drivers and Pedestrians, http://archinte.jamanetwork.com/article.aspx?articleid=2553331
FOX News, Death by Pokemon? Public Safety Fears Mount as Pokemon Go Craze Continues, http://www.foxnews.com/tech/2016/07/14/death-by-pokemon-public-safety-fears-mount-as-pokemon-go-craze-continues.html