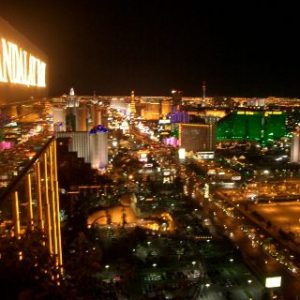 Police reports say death toll in Sunday's night's outdoor concert massacre at the Mandalay Resort Hotel in Las Vegas has risen to 58.  At least 515 people have been reported injured.  The alleged gunman, Stephen Paddock, was found dead in his hotel room after the shooting spree.  The suspect is believed to have checked into the hotel with more than 10 rifles although there have been no reports indicating what types of weapons were found.
At approximately 10 pm, police say that Mr. Paddock opened fire from his 32nd floor hotel room onto the crowd below, spraying a hail of bullets across the 22,000 concertgoers.  Audio recordings that were made at the scene indicate that the gunman had used at least one automatic weapon.   This mass shooting incident is now considered the deadliest in US history.
The Las Vegas Police department has notified the public that blood donations for the injured victims can be given at United Blood Services.  An additional blood drive will be held at the University Medical Center of Southern Nevada on Monday.  Citizens are also encouraged to contact their local American Red Cross offices.  For those who are not local to the area, financial donations can be made on the American Red Cross website.
Sean F. Salamati and the entire staff of The Salamati Law Firm are devastated by the tremendous loss of life and the harm inflicted on the families of all those who were killed or injured in this unprecedented event.
Though incidents on this scale shake the entire the world, people are victims of gun violence every day in this country. Whether inflicted intentionally or negligently, victims and the families of victims deserve the best and most experienced legal counsel to uncover what events led to the shooting and how it has since impacted their lives. The emotional impact of surviving gun violence adds another level of sensitivity that also deserves to be explored. It is possible to suffer serious injuries by merely witnessing such an event.
Sean F. Salamati has decades of experience to help families and victims who've been shot, uncover who is ultimately liable for the shooting and get compensation for those who deserve it.  For more information, please call us at 213-817-8888.