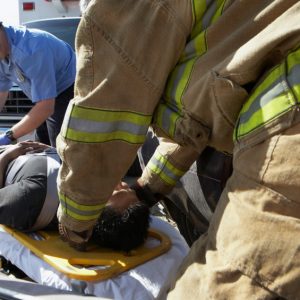 Unprecedented rains in a historically dry area have triggered flash floods and a massive surge in freeway crashes, reports the Los Angeles Times. At the beginning of the rainy period last November, the California Highway Patrol noted a whopping 570 percent increase in traffic accidents throughout Los Angeles County, as motorists struggled with slick roads, poor visibility and hazardous conditions. According to reports, heavy storms inundated San Luis Obispo County with more than two inches of rain, and Brentwood's Getty Center didn't fare much better with more than an inch of water. The sudden uptick in motor vehicle crashes created havoc and gridlock along several highly-trafficked freeways in Southern California.
The spike in freeway crashes, some of which involved multiple vehicles and large trucks, left many motorists with serious injuries requiring hospitalization and medical treatment. Unfortunately, weather-related traffic accidents in California are not uncommon, says personal injury attorney Sean Salamati, who represents victims in the greater Los Angeles area. Salamati has vast experience handling personal injury car accident claims involving commercial vehicles and passenger cars.
Liability issues in bad weather accidents
Treacherous road conditions, whether caused by rain, ice or fallen debris, can lead to dangerous situations for anyone behind the wheel. In car accidents caused by bad weather, who, if anyone, is legally responsible for damages?
In California, liability for any type of auto accident comes down to negligence. Was the driver exercising reasonable care given the current weather conditions at the time of the crash? A light shower might only call for a slight reduction in speed, whereas a heavy downpour would require a reasonable driver to turn on their headlights, slow down considerably and accommodate for longer stopping distances, in case of sudden breaking.
Snow, rain, fog, ice and sleet can reduce tire traction, visibility and brake performance. When motorists are driving in bad weather conditions, they should take extra care and adjust their speed accordingly. Those who fail to do so and are involved in a collision may have a difficult time seeking appropriate compensation for property damage, medical bills and other related losses.
If you are injured because another motorist failed to drive safely in bad weather, or was driving too fast for conditions, the Salamati Law Firm is here to help.
Protect your rights to compensation
As a veteran California injury attorney who specializes in car accident claims, Sean Salamati leverages the resources and experience to build a strong case that documents all injuries, pain and suffering, and economic losses. His legal team can uncover whether hazardous road debris, careless driving, alcohol impairment, or other factors contributed to the crash.
Working with a trusted auto accident lawyer in Los Angeles with proven case results can make a major difference in your ability to successfully file a claim and recover fair monetary compensation for your losses.
To set up a free, no-obligation case evaluation at our Los Angeles office, we invite you to call 888-259-4060.
More "car accidents caused by rain" resources:
LA Times, Rain triggers 570% surge in Los Angeles County freeway crashes http://www.latimes.com/local/lanow/la-me-ln-rain-weather-socal-20161121-story.html
LA Times, Drenched: How L.A. went from bone-dry to 216% of normal rainfall in four months, http://www.latimes.com/local/lanow/la-me-rain-record-la-20170123-story.html