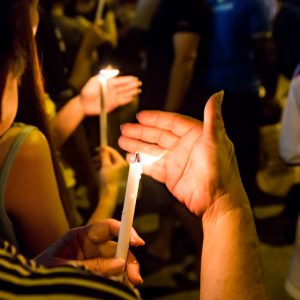 Monday, October 1, 2018, marked the one-year anniversary of the Las Vegas shooting that took the lives of 58 attendees of the Route 91 Harvest music festival. Hundreds more were injured in the attack. People in and around Las Vegas marked the event with memorials. Meanwhile, investigations have still not revealed a clear motive for the massacre.
Shooting anniversary marked by memorials and homecoming
Officials throughout Nevada recognized the enormity of the anniversary. Governor Brian Sandoval ordered that all state and federal flags fly at half staff from sunrise to sunset. The Las Vegas Portraits Project, a display of artwork of the victims, is on display at the Clark County Government Center through October 19. A shooting survivor from Los Angeles, Dennis Guerrero, started a nonprofit called LoveWins and it is raising money to help the families left behind by the 58 who died.
Remarkably, just a few days before the anniversary, Rosemarie Melanson was released from the hospital. There were over 800 people injured in the shooting and Melanson was the last of the victims to remain hospitalized. She suffered bullet wounds to several organs and was placed on life support immediately after the shooting. Miraculously, she survived, and after nearly a year in the hospital, she finally returned home.
Federal court denies request of venue owner MGM
More than 20,000 people were attending the Route 91 Harvest music festival when Stephen Paddock opened fire on the crowd, killing 58 people and injuring hundreds more. Since then, more than 2,000 people have either sued or threatened to sue those connected with the venue or the shooter.
Hundreds of victims have joined in five lawsuits in state courts in California and Nevada, naming as defendants MGM Resorts International for allegedly not having proper security procedures and trained staff; concert organizer Live Nation for allegedly not having adequate exits and trained employees; and the estate of shooter Stephen Paddock.
MGM, the owner of Mandalay Bay, took a highly unusual step and filed a federal lawsuit naming about 2,000 people who were have sued or threatened to sue the company, requesting that the court issue a declaratory judgment stating that MGM is not liable, and requesting that all of the lawsuits against it be pooled together in multi-district litigation (MDL). Earlier this month, MGM's requests were denied, allowing existing and future lawsuits against it to proceed in state courts without being transferred to an MDL docket.
Fighting for rights of injury victims in California
Los Angeles personal injury attorney Sean Salamati understands the legal battle that the shooting victims and their families face. The Salamati Law Firm has dedicated the past two decades to fighting for the rights of personal injury victims in LA and around Southern California. If you have been injured and believe someone else bears legal responsibility, call today to schedule a free confidential consultation.
Additional resources on Las Vegas shooting updates:
Bloomberg, MGM Resorts Can't Centralize Mass Shooting Lawsuits Panel Rules, https://www.bloomberg.com/news/articles/2018-10-03/mgm-resorts-can-t-centralize-mass-shooting-lawsuits-panel-rules
Fox News, Las Vegas shooting: Memorial events mark 1-year anniversary as massacre motive still shrouded in mystery, https://www.foxnews.com/us/las-vegas-shooting-memorial-events-mark-1-year-anniversary-as-massacre-motive-still-shrouded-in-mystery
Fox News, Las Vegas massacre survivor leaves hospital year after shooting, https://www.foxnews.com/us/las-vegas-massacre-survivor-leaves-hospital-year-after-shooting