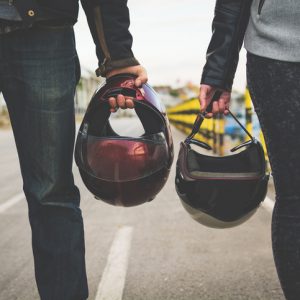 Southern California has some of the finest weather and most spectacular routes for motorcycle riding. From rugged canyon roads to stunning coastal stretches, the Golden State is the place to be. After a long day on the road, there are plenty of popular spots where bikers can fuel up on hearty fare and whet their whistles.
Here's a roundup of some the best motorcycle hangouts in and around Los Angeles.
The Rock Store
The Rocks Store is unquestionably SoCal's most famous motorcycle hangout. Renowned for its homestyle cooking, amazing location and sense of community, this place is where bikers of all ages and creeds come to talk shop, swap stories, people watch and chow down. The ride up to Mulholland Drive is tight and twisting, with panoramic Pacific Ocean views. You may bump into Jay Leno and other Hollywood elite, and this landmark pitstop has been featured in many movies, TV commercials and videos. Open Fridays, Saturdays and Sundays, the Rock Store is where Harley guys rub elbows with the sportbike crowd over cheeseburgers and cold drinks.
Original Mikes
Get the best burger in Orange County at this biker-friendly joint. Original Mike's is located on the corner of Main and First streets in downtown Santa Ana and is owned by legendary biker Mike Harrah. There are classic cars on display and Harley Davidsons hanging from the ceilings, and the menu features classic American comfort food. Original Mikes has three stages for live entertainment, jumbo flat screen TVs, dance floors, an outdoor patio and hosts special bike nights and other events.
Cook's Corner
When it comes to biker hangouts in Southern California, Cook's Corner is top on the list. Situated in Trabuco Canyon, this iconic roadhouse had humble beginnings as an eatery for local ranchers and miners. Over the years, the place evolved into the epic biker bar it is today. On any given weekend, this place is packed with riders coming for good food and a great party scene. Cooks serves standard road fare and has an atmosphere that oozes authenticity. The ride to get to Trabuco Canyon makes this a destination in and of itself.
Tumbleweeds Bar & Grill
Tumbleweeds ticks all the right boxes for a great biker hangout. Juicy burgers. Live music. Darts. Pool. Giant TVs streaming live sports. Most importantly, it has a biker-friendly fun crowd. If you ever find yourself near Huntington Beach, stop in for a bite to eat and check out their events calendar for Blues Jams and performances by local rock bands.
Motorcycle accident attorney Los Angeles
The Salamati Law Firm is a strong supporter of motorcyclists in Southern California. Leveraging more than 20 years of expertise in personal injury law, we've helped countless bikers recover monetary damages in serious accident claims. If you need legal representation of the highest caliber, reach out for a free consultation with a Los Angeles motorcycle accident lawyer who gets results. Call our law offices any time.
Additional Resources on LA Biker Hangouts:
City Search, Biker Hangouts in Los Angeles http://www.citysearch.com/guides/2401/biker-hangouts-in-los-angeles.html
MeetUp, Motorcycle Riding Meetups in Los Angeles https://www.meetup.com/topics/motorcycle-riding/us/ca/los_angeles/?_cookie-check=4plf8MeJr6jUE1e-
Rock Store, MotorHead Mecca http://rock-store.com/