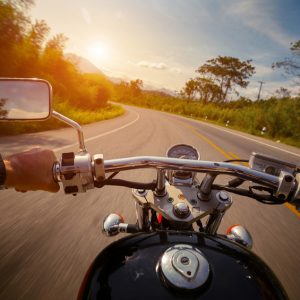 There are more than 8 million registered motorcycles in the United States, and anyone who has felt the freedom of open road on a bike understands the attraction. Motorcycles offer less protection to riders than passenger cars or larger vehicles, so it is important to ride the right bike for you. Here are some signs that it may be time to upgrade your motorcycle or replace some parts.
Do I need a new motorcycle?
The needs of a rider change with experience. Evaluate your needs and preferences to be sure your bike still suits your situation. It might be time to move on to a new motorcycle if:
You are ready for a larger bike. Lighter weight motorcycles are appropriate for novice riders because they provide for easier control. The lower height of a smaller bike's seat also helps a beginner's balance when stopping. If you have mastered steering, braking, and balancing, and are looking for more power, consider a larger option.
Your older bike does not have anti-lock brakes. In recent years, more and more bikes have hit the market with ABS. Statistics show that bikes with ABS brakes are 37% less likely to be involved in a fatal crash.
Your use has changed. If you have outgrown your off-road days and now prefer long-road riding, it may be time to upgrade to a touring bike with features like a larger fuel storage capacity and more luggage space. Maybe you find yourself drawn to the social aspects of riding; it may be time to invest in a cruising bike from a recognized manufacturer.
Your finances have changed. A higher-profile custom bike is going to cost quite a bit more than a beginner-friendly moped. If you find your financial situation improving along with your riding experience, it may be time to invest in a larger bike.
Keep your motorcycle in safe condition
Even if it is not time to replace your motorcycle, it is time to take a look at its components and gear to make sure they are in safe condition. Inspect your bike and equipment regularly for damage or signs of wear – here are some places to start.
Tires. Tires are literally your bike's connection with the road. Check for wear, physical damage, and proper inflation.
Chain. If you cannot get the chain tension correct, it may be a better use of time and money to replace it. An incorrectly adjusted chain can break on the road or hit the chassis.
Helmet. Riders who skip helmets are 3 times as likely to suffer brain damage and 40% more likely to sustain a fatal head injury than riders wearing helmets. Generally, helmets can last about five years with proper care, but inspect the outer shell for damage. Be aware that damage to the absorbent material inside may not show that it is compromised, so you may be better off replacing it if it may have been damaged.
Consult with a Los Angeles motorcycle accident lawyer
These tips are intended to help you ride safely. Unfortunately, no one can control other drivers on the road and motorcycles bear the brunt of other drivers' negligence. If you suffer injuries in a motorcycle accident in California, speak with Los Angeles motorcycle accident lawyer Sean Salamati to find out how to protect your rights. Call us today for a free consultation.
Have you been injured? Click here to call our office now!
Additional "When to Buy a New Motorcycle" Resources:
DMV.org, Choosing the Right Type of Motorcycle, https://www.dmv.org/how-to-guides/choosing-a-motorcycle.php
Consumer Reports, 10 Motorcycle safety tips for new riders: Expert advice for first-time and returning riders, https://www.consumerreports.org/cro/2013/04/10-motorcycle-safety-tips-for-new-riders/index.htm