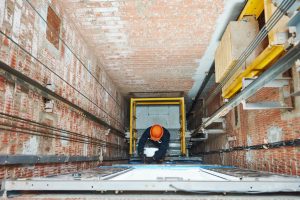 Up to 17,000 people are injured in elevator and escalator accidents every year. The Consumer Product Safety Commission (CPSC) has reported that elevator and escalator accidents result in 30 deaths per year. These eye-opening numbers raise complex questions as to who is responsible for elevator accidents and the injuries they cause.
Elevators in commercial buildings undergo annual safety inspections by municipal building inspectors. Elevator safety inspection, however, is no guarantee of the welfare and well-being of elevator riders.
Sometimes municipal inspectors fail to perform thorough safety checks or to follow up on corrections of violations. Sometimes building owners defer routine maintenance and repairs that are needed to keep elevators safe. If you are injured in an accident involving an unsafe elevator, the Los Angeles premises liability lawyers at Salamati Law will fight to have the responsible parties compensate you for your injuries.
Common Elevator Accident Injuries
Even a properly operating elevator can cause injuries, such as:
Crushed hands, arms, or legs when doors close rapidly
Head and neck trauma from abrupt starts or stops
Broken bones from trips or falls over uneven elevator thresholds
Physical or psychological trauma from being trapped in a crowded elevator that gets stuck
Electrical burns from faulty control panels
What Causes Elevator Malfunction or Failure?
We take elevators for granted, but they really are marvels of modern engineering that involve complex interactions between mechanical and electrical systems, and electronic control circuitry. If you file an elevator accident lawsuit, your chances of receiving compensation for all of your injuries will be greater if your lawyer understands this technology.
Most elevator accidents trace back to a few common causes:
Power failures. Mismatches between a building's electrical power supply and the elevator's motors can lead to motor failure. The investigative team at Salamati Law Firm will inspect both the building's and the elevator's electricity maintenance records to verify proper coordination of power supplies.
Worn pulley, bearings, and cables. Over time, elevator cables can wear grooves into moving mechanical parts. Those grooves can lead to failure of both the cables and the rotating parts.
Dirt and grime. Moving elevator parts that are not cleaned regularly can become contaminated or clogged with gunk that impairs proper operation.
Misalignments. Motor mounts that shift or decay over time can cause alignment problems that propagate through an entire elevator operating system.
Faulty or dated electronic controls. Elevator operating software can suffer the same degraded performance as computer operating systems. Elevator software should be upgraded regularly with new technology that improves safety.
Assessing Responsibility for Elevator Maintenance and Establishing Liability for Injuries
Working with an experienced attorney like Sean Salamati, who has litigated many cases involving safety breeches in modern commercial buildings, will improve your opportunity to receive a larger elevator accident lawsuit settlement amount. Large commercial buildings operate like businesses, with both internal operations and outside contractors and service providers that manage different systems.
Parties that may be liable for an elevator accident injury or death include:
Elevator manufacturer or seller
Elevator repair companies or maintenance personnel
Building owner or manager
In the wake of an elevator accident, insurance companies and defense attorneys will try to confuse the picture regarding liability. Sean Salamati and his team of investigators are tenacious in tracking down the root cause of elevator malfunction, and presenting a clear and convincing case based on documentary evidence and expert witness testimony.
Proving and winning your case is a matter of showing the four standard elements of a negligence case:
The responsible party owed you an obligation to provide an elevator that operated safely;
That party failed to meet that obligation;
The responsible party's failure caused your injuries; and
You were harmed or injured as a result of that failure.
Sean Salamati Has the Knowledge and Experience to Win Your Case
Los Angeles premises liability lawyer Sean Salamati appreciates how quickly your life can change when a building owner's or manager's negligence results in a grievous elevator injury or death. Our legal team has the knowledge and experience to delve into complex elevator technology and maintenance records, and to use those records to allocate responsibility and liability to the parties that should compensate you for your injuries.
If you or your family member has been injured in an elevator accident, contact the Salamati Law Firm for professional representation by skilled lawyers that know and appreciate elevator technology and its potential for harm and injury. All initial case reviews are free of charge, and you never owe us any fees unless we win money for you.
Additional Elevator Accident Resources:
CDC.gov – Deaths and Injuries Involving Elevators or Escalators (Revised) https://www.cdc.gov/niosh/nioshtic-2/20039852.html
IGN.com – Elevator Accident Kills Woman Final Destination Style http://www.ign.com/boards/threads/elevator-accident-kills-woman-final-destination-style.207508735/
Renown-electric.com – 5 Common Elevator Problems and prevention Tactics https://www.renown-electric.com/blog/common-elevator-problems/