If you have been in a car accident, you might be able to receive damages for pain and suffering. However, these damages can be hard to quantify because there are no bills or invoices. Instead, it is subjective and varies widely depending on each case. However, there are a few different methods used to calculate them. If, after reading this, you have more questions, please contact us at Salamati Law for a free case review.
What is Pain and Suffering?
Under California law, the injured party can receive compensation for economic damages, including medical expenses and lost wages, in a personal injury action. These damages can be calculated based on actual costs, whereas non-economic damages, like pain and suffering, cannot.
Further, it can refer to many different types of damages, including:
Physical pain
Loss of consortium
Loss of enjoyment of life
Depression
Emotional distress
Anxiety
PTSD
Calculating Pain and Suffering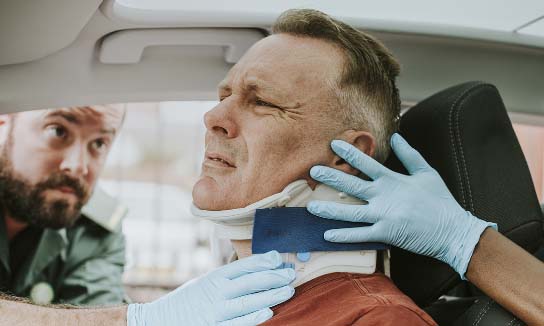 One standard way to calculate pain and suffering is the multiplier method. Using this, a jury will choose a multiplier based on the severity of injuries, and the defendant's negligence–and then multiply that number by the amount of awarded economic damages. For example, the plaintiff was awarded $100,000 in economic damages, and the jury chose a multiplier of 2 based on the severity of the plaintiff's injuries. In that instance, the pain and suffering damage award would be $200,000.
Another method is Per Diem. Using this, a specific dollar amount is designated for each day the person is injured and then multiplied by the number of days it took to reach maximum full recovery. For example, if $100 is the designated dollar amount and it took 30 days for the injured party to reach full recovery, then the plaintiff might receive $3000.
In settlement negotiations, you and your lawyer are probably dealing with the insurance company of the defendant. Therefore, they might be using a different method to determine the value of your pain and suffering claim. For example, they might look at the severity of your injuries and the length of your medical treatment.
Our Los Angeles personal injury lawyers are here to advocate for you–so that you receive the compensation you deserve for your serious injuries.
Contact Los Angeles Car Accident Lawyers for a Free Case Review
At Salamati Law, we are compassionate and skilled car accident lawyers located in Los Angeles, and we have devoted the last 20 years to victims of negligence. We understand that serious injuries are destabilizing—so put your case in our capable hands while you focus on healing. Contact us for a free case evaluation. There are no upfront fees because we work on a contingency basis.