When you need a car accident injury lawyer specializing in whiplash, Salamati Law is here to help. We have seen insurance companies try to minimize this type of neck injury. However, we know firsthand the pain, limitation, and expense car accident victims endure. After seeking a medical evaluation, a Los Angeles car accident lawyer should be your next call to investigate liability and determine whether you will need a personal injury lawsuit to finance your recovery.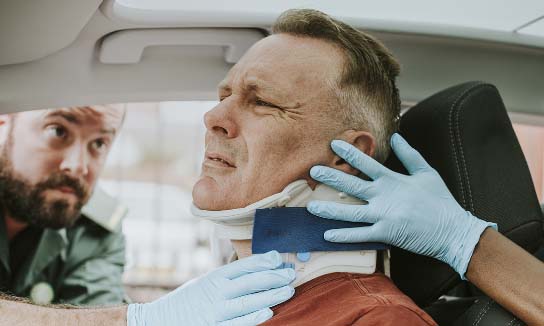 What is a Whiplash Car Accident Injury?
Whiplash is a neck injury caused by a sudden, violent, back-and-forth movement of the head, neck, and spine. Upon sudden impact, the neck flexes to resist stress. Muscles, tendons, and ligaments in the spine tear, causing one vertebra to pull away from the next. Sometimes bones can protrude or rupture, necessitating surgery. Other times, chronic pain arises from the capsule region of the neck post-crash.
What Causes Whiplash?
Physical trauma and sports can also cause whiplash injuries, but rear-end collisions are the top cause. Contrary to popular belief, high speed is not necessary for whiplash– studies show speeds as low as 15 miles per hour can cause it.
When Does Whiplash Car Accident Pain Occur?
Most whiplash symptoms appear within 24 hours, including:
Soreness and stiffness in the neck, with limited range of motion
Pain, stiffness, and weakness in the arms or shoulders
Headaches
Muscle spasms
Jaw pain
Fatigue
Irritability and anxiety
Blurred vision
Dizziness
Difficulty concentrating
Ringing in the ears
Insomnia
A whiplash injury car accident victim may not have every symptom on this list. Most people just feel a bit sore at first. However, it is essential to see a doctor right away if the pain persists, and a lawsuit becomes necessary to pay the medical bills. About 1 in 10 whiplash sufferers are in pain many years later.
A doctor can order an X-ray, CT scan, or MRI to better understand the damage. Treatment for mild injury may include ice, heat, over-the-counter pain medication, chiropractic care, and massage. Many cases of whiplash subside in a few days or a week with appropriate care. However, some cases may take a month to heal. A more serious injury may require surgery or physical therapy.
How Can a California Car Accident Attorney Help?
California has at-fault auto accident laws, meaning the person who caused the accident is liable to pay for all damages. However, sometimes both parties are at fault. In that case, each pays a portion of the bills based on a percentage of ascribed liability. For this reason, it is essential to work with a Los Angeles car accident attorney. No doubt, the other side will try to minimize their liability and maximize yours.
California drivers are required to carry at least $15,000 per person or $30,000 per accident in bodily injury insurance. However, most whiplash injuries exceed the insurance payout amount, prompting individuals to file personal injury lawsuits. Further, insurance only pays for medical expenses and lost wages. It does not pay for pain and suffering, which can be recovered in a settlement or jury award. Your day-to-day hardship, loss of mobility, anxiety, and loss of enjoyment in life are worth something.
A California car accident attorney can help whiplash victims by:
Conducting an in-depth investigation using testimony from accident reconstruction experts.
Paying all upfront court fees and expenses to pursue a lawsuit.
Identifying all liable parties and potential sources of compensation.
Organizing police reports, medical records, pay stubs, and receipts in one file.
Working with forensic economists to determine the true extent of your losses, past and present.
Communicating with the defendant(s) and insurance companies on your behalf.
Using past case history to command a fair and full settlement offer.
California typically allows injury victims up to two years from the date of an accident to pursue a legal claim in civil court. However, this timeframe can vary, depending on the circumstances. Most whiplash cases never go to court– instead, they are resolved in settlement talks. Plaintiffs are not responsible for paying attorney fees unless the firm recovers compensation on their behalf. Initial consultations are always free, so it's wise to seek advice as soon as possible.
Speak with a Car Accident Injury Attorney
Call us at Salamati Law for a complimentary, no-obligation case review. Since 1995, we've taken on some of the most complex cases and won. We understand the devastating toll pain and limited mobility can take on a person, and we are here to help.