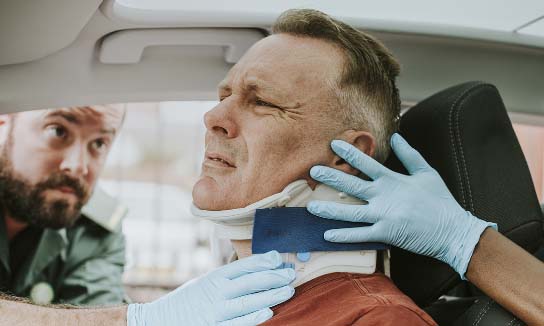 Bills add up fast in the aftermath of a serious injury. The cost of medical care alone can be overwhelming. You could find your finances on shaky ground if you are too hurt to work. A personal injury lawyer might be able to help you make things right by pursuing a civil claim against the person or entity who harmed you.
If you have sustained injuries through no fault of your own in La Mirada, the team at Salamati Law is here to help. We understand what it takes to pursue a fair outcome in a personal injury lawsuit and win. So, before you consider settling your case on your own, reach out to a La Mirada personal injury attorney as soon as possible.
Examples of personal injury lawsuits
A La Mirada personal injury lawyer can assist you with a variety of cases, including:
Slip and fall accidents. There are unique challenges with pursuing a claim against a negligent property owner after a fall. A slip and fall lawyer could make that process more straightforward.
Car accidents. Collisions between motor vehicles make up a large portion of personal injury cases. These accidents can occur when drivers are intoxicated, careless, or aggressive.
Medical malpractice. There are different ways a doctor, surgeon, or hospital administrator could cause your illness or injury through negligence. Some examples include the failure to diagnose or treat your condition.
Truck accidents. Collisions with commercial vehicles are not as common as car accidents, but they are often far more severe. This is because trucks are much larger than passenger vehicles, and the injuries are catastrophic.
What is my case worth?
Many people ask their personal injury attorney in La Mirada, CA– what is my case worth? This question is understandable, but like with most legal questions, it depends on the unique fact patterns of your accident.
Generally, the value of your case is based on how severe your injuries are. When you work with a personal injury lawyer in La Mirada, they will advise you on the other factors that could impact your case. For example, whether or not the at fault party was insured at the time of the accident is important. In addition, the value of your case could go down if you were partially at fault.
To understand the value of your case, it is helpful to know the types of compensation that might be available. For example, damages could cover things like:
Lost wages. When you injured, you may miss days, weeks, or months of income. Our team could help you replace those lost wages.
Medical bills. The cost of medical care is one of the most important factors to consider when pursuing a personal injury lawsuit. This care can be costly and ongoing.
Pain and suffering. Your physical pain and suffering might also result in a claim for compensation.
Property damage. In addition to your own injuries, you might also be entitled to compensation for the damage that was done to your personal property. This often involves damage to a motor vehicle in a car accident. You could recover compensation for the cost of replacing or repairing it.
Contact a personal injury lawyer in La Mirada, CA
If you were injured through no fault of your own, a personal injury attorney in La Mirada, CA, is ready to help. With the right legal team serving your needs, you can focus on healing from your injuries. In addition, entrusting your civil lawsuit to the hands of skilled legal counsel will provide the peace of mind you deserve.
Whether you require counsel from a wrongful death or personal injury attorney, Salamati Law is ready to serve. Call as soon as possible for a free consultation.