Inglewood is very popular among motorcyclists thanks to its scenic routes and mild weather. Despite the inherent pleasures of motorcycle riding, statistics indicate that some 15 percent of all traffic fatalities in the Golden State involve motorcyclists. Even the most experienced bikers who drive defensively cannot control other people's behavior.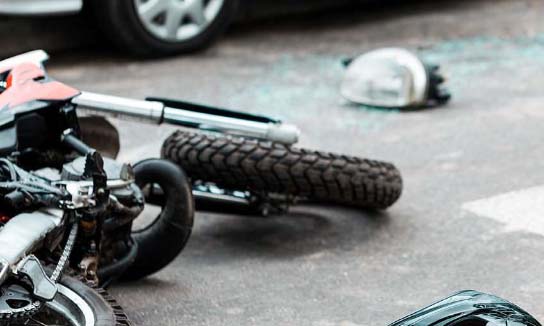 If you were injured in a motorcycle accident caused by another's negligence, Salamati Law is here to help. Reach out today to schedule a free consultation with an Inglewood motorcycle accident lawyer. Our full-service personal injury law firm is well-versed in California's motorcycle laws, enabling us to provide the best service to clients. We provide strategies and guidance to protect your rights when you are hurt.
What Types of Compensation Are Recoverable?
A skilled and respected Inglewood personal injury lawyer will know how to maximize your compensation. By collaborating with medical experts, accident reconstruction specialists, economic advisers, and life care planners, our firm can put a fair dollar value on your motorcycle injury claim. While victims are out of work trying to get their health back, medical bills can pile up. These expenses, along with lost wages, can make recovery challenging.
Our job is to ensure that clients receive proper compensation for the harm they have suffered. This includes monetary damages for the financial, physical, and emotional effects of a motorcycle crash.
A settlement or court award may account for damages such as:
Medical and hospital expenses
Physical therapy and other forms of rehabilitation
Repairs for property damage
Loss of income
Future medical expenses associated with the injury
Loss of earning capacity due to permanent injuries
Pain and suffering
Emotional distress
Loss of enjoyment of life
Loss of spousal consortium
Why You Need a Motorcycle Accident Lawyer in Inglewood
Whether you were struck by a distracted driver or run off the road by a negligent trucker, the aftermath of a motorcycle crash is bound to be confusing and stressful. Calling an Inglewood motorcycle accident attorney may be the last thing on your mind, but it's just as important as seeking medical attention for your injuries.
Insurance adjusters move in swiftly and are trained to minimize liability by contesting their client's negligence. As an injured motorcyclist, you need a capable legal advocate to protect your interests and ensure that justice is served. At Salamati Law, our team has handled numerous motorcycle accident cases. We help our clients secure top-dollar settlements and the peace of mind that comes with a successful personal injury claim.
Motorcycle Crashes: Common Injuries
Motorcycle riding may be a beloved pastime and mode of transportation for many Inglewood residents, but there is no denying its dangers.
More than 80 percent of all motorcycle crashes result in some bodily harm. Common accident injuries include:
Road rash
Injuries to the knees, legs, ankles, and feet
Broken bones
Head and neck injuries
Traumatic brain injury (TBI)
Organ damage
Severe burns
Spinal cord injury
Loss of limb
A careless driver's actions can result in months or years of pain and suffering. If you face an uncertain future, you need a qualified lawyer who will fight for your rights. A motorcycle accident attorney in Inglewood with the resources and knowledge will help you build a strong case and support you through the legal process.
Safety Tips for Motorcycle Riders
Safe riding takes more than protective gear, coordination, and good judgment. Veteran motorcycle riders know California's motorcycle laws– they drive defensively and don't take unnecessary risks. They know that most motorcycle crashes are caused by motorists who don't see them. Given the inherent risks involved, it's not enough to wear a helmet.
Motorcyclists can improve their safety while on the road by checking road and weather conditions before setting out, ensuring their bike is properly maintained, and staying alert for left-turning cars.
Some other motorcycle safety tips to consider:
Take safety courses to refresh your skills
Obey traffic rules and speed limits
Wear a reflective vest to increase visibility
Be on the lookout for road hazards
Do not drink and ride
Keep a safe distance
Click here to call now for a FREE consultation!
Best Motorcycle Accident Lawyer in Inglewood
At Salamati Law, our attorneys have the insight and experience needed to secure fair compensation after a serious motorcycle accident in Inglewood, CA. Reach out for a free, no-obligation consultation to explore your rights.