At Salamati Law, we know that the injuries caused by bicycle accidents are often severe. If you've been hurt in a bicycle crash due to the negligence of another person or entity, you may have grounds to file a bike accident claim. This would allow you to recover financial compensation for your damages. We leverage every resource to ensure our clients secure the monetary compensation they need and deserve to rebuild their lives. Contact us today for a free consultation.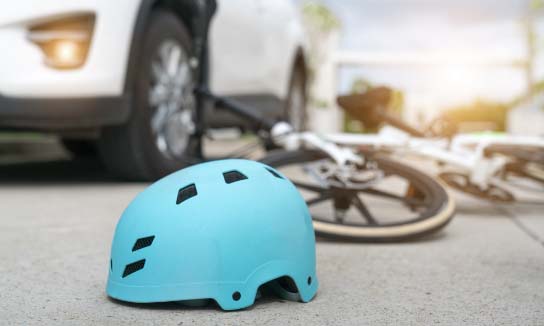 Bike Crashes Can Cause Life-Changing Injuries
Unfortunately, even if you wear as much protective gear as possible–including a helmet, you may still be seriously injured in a bicycle accident.
As an experienced bicycle accident lawyer in Downey knows that some of the injuries commonly associated with bicycle accidents include the following:
Fractured or broken bones
Lacerations or cuts
Internal injuries
Organ damage
Neck, spinal cord, and back injuries
Head injuries such as Traumatic Brain Injury (TBI)
Permanent scarring or disfigurement
Dental injuries
Amputations
Paralysis
Wrongful death
What are the Damages I can Pursue?
The physical, emotional, and financial pain and stress can be overwhelming after an accident. However, you may be eligible to receive a significant amount of compensation to alleviate this.
Here are some of the types of damages typically pursued in bicycle accident claims:
All medical costs
Lost wages
Loss of earning capacity
Pain and suffering
Loss of companionship
Loss of enjoyment of life
How You Can Help Maximize Your Financial Recovery
To maximize the amount of financial compensation that you could receive with the help of a Downey bicycle accident attorney, here are some steps you can take on your own after a bike accident, including the following:
Call the police and see to it that an accident report is completed and filed
Seek medical attention even if you feel fine
Take pictures of your injuries, injuries to other people, any property damage, all other vehicles involved in the accident, the exact location of the collision, the traffic, weather, and road conditions at the time of the accident.
Compile a list of the contact information for all eyewitnesses to the crash.
Refrain from status updates or posting pictures or videos about your accident on social media
Schedule a consultation with an experienced Downey bicycle accident lawyer.
It is Still Possible to File a Claim Even if You were Partially At-Fault
It's still possible to file a claim because California is a pure comparative negligence state. It means that you can still recover financial compensation for your injuries as long as you were less than 100 percent at fault. The total amount of damages you incur will be reduced in proportion to the percentage of your fault. For example, if you suffered $1 million worth of damages and were found to have been 35 percent responsible for the accident, you would still end up with $650,000.
Tap Here to Call Our Office Now
Why You Should Book a Consultation with an Attorney
Given the physical, emotional, and financial trauma bike accident victims are facing after a crash, we advise that you consult with an experienced bicycle accident attorney in Downey as soon as possible. This consultation will arm you with important information regarding what your next steps should be and help you understand who is liable.
Contact a Bicycle Accident Attorney in Downey, CA, at Salamati Law
Since 1995, we have stood up for the rights of injured victims in Downey. In addition, we zealously advocate on behalf of our clients to maximize the amount of financial compensation they receive.
If you have been injured in a bike accident here in Downey, contact us today to schedule a cost-free consultation with a Downey personal injury lawyer. We will never send you a bill unless you win your case.