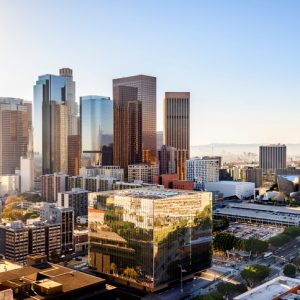 Downtown Los Angeles is experiencing one of its biggest construction booms in decades, thanks to a surge of foreign investment. According to the LA Times, the number of building projects currently underway is the most the downtown area has seen since the 1920's. Nearly 80 developments totaling 50,000 square feet or larger have gone up since 2010, or are in the process of being completed. Unlike the construction boom of the 70s and 80s, this expansion is more varied, with fewer corporate buildings and more retail and residential developments.
As the LA skyline continues to change and reach ever taller, let's take a look at three construction projects that are making headlines.
$1.2 Billion Transit-Oriented Development at Angels Landing
As of last month, Angels Landing Partners LLC was chosen by the LA City Council to head up the development of a 2-acre plot at Fourth and Hill Streets – the Angels Landing site. With an estimated budget of $1.2 billion, the team aims to erect two mammoth towers, one that is slated to be the tallest residential building (at 1,000 feet) in the entire western U.S. The mixed-use development will include 425 apartments, 250 condos, two hotels, retail and restaurant space of almost 45,000 sq. feet and an elementary school. The development will feature a communal gathering space for outdoor events, and a small food hall for local businesses. Completion is expected in 2024.
$100 Million Outdoor Mall at Long Beach
The old SeaPort Marina Hotel is being razed to make room for a new 220,000-square-foot coastal mall in Southeast Long Beach. According to Mayor Robert Garcia the mall will help revitalize one of the most important sites in Long Beach, bridging both Los Angeles and Orange Counties. Developers say that 1/3 of the space will be dedicated to chef-driven bistros, with the hopes of luring residents, not tourists. There will be a Whole Foods market, outdoor roof decks and plenty of casual eateries for waterfront dining. The Long Beach mall is slated to open its doors in Spring of 2019.
New Tower Planned for Hilton LA/Universal City
The owner of the Hilton Los Angeles wants to build a second $100-million tower to the hotel, with 365 rooms, a full-service spa and a rooftop restaurant. The expansion would help accommodate the increasing numbers of visitors to the Universal Studios Hollywood film studio and theme park. The building application with the city will require an environmental impact report on the project's effects. If approved, the second tower could be completed as early as 2022.
Legal advocacy in Los Angeles
The construction boom is good news for the economy, bringing added jobs and an influx of money to the city. However, a rash of building projects come with their own set of hazards when worker safety is not made a priority. Every year, dozens of workers in California are subject to grueling injuries or even death because of negligent training and supervision, or lack of proper safety equipment.
When safety measures at job sites are inadequate and someone gets hurt, you need a competent attorney to protect your rights. Sean Salamati is an experienced construction accident lawyer serving Los Angeles & the greater metropolitan area. Call today for a free case evaluation.
Additional Resources:
LA Times, Universal Hilton plans new tower as tourists flock to Harry Potter's wizard world http://www.latimes.com/business/la-fi-universal-hilton-expansion-20171220-story.html
LA Times, $100-million outdoor coastal mall replacing obsolete Long Beach hotel http://www.latimes.com/business/la-fi-pch-center-development-2017126-story.html
Boston RealEstate Times, Tallest Building in Western US to be Built by 100% Minority Group's $1.2 Billion Development http://bostonrealestatetimes.com/tallest-building-in-western-us-to-be-built-by-100-minority-groups-1-2-billion-development-after-unanimous-selection-by-la-city-council/