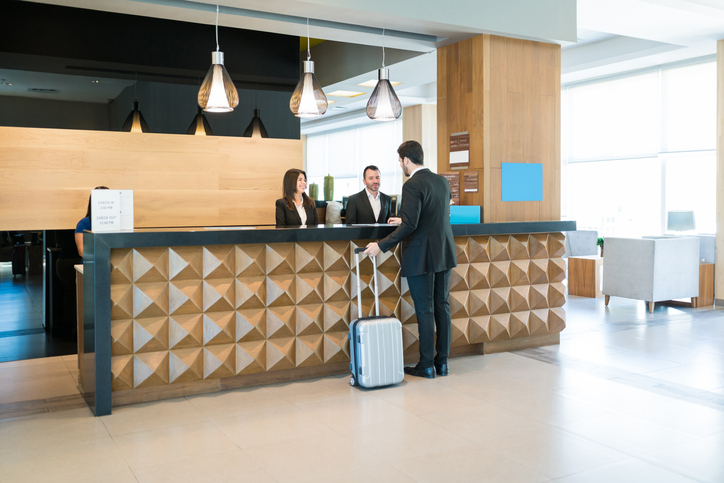 The travel and leisure industry has suffered unprecedented losses as a result of the coronavirus pandemic. Hotels have been particularly hard hit, with occupancy and revenue rates falling by 50% or more.
Hotels that carry business interruption insurance may be able to recover some of these losses by filing and pursuing claims with their insurance carriers. California hotels that need assistance in filing a claim or whose insurers have denied their claim should contact the Salamati Law Firm in Los Angeles. Southern California business interruption insurance attorney Sean Salamati can advise you of your rights and legal options for reimbursement of lost revenue.
Business Interruption Insurance Coverage for California Hotels
Many insurance companies announced at the outset of the pandemic that commercial business interruption policies only cover losses that are related to physical property damage. Regulators and business interruption lawyers quickly responded that at least two other business interruption insurance provisions covered lost revenues due to coronavirus cancellations:
Civil Authority Business Interruption Insurance Coverage
Governmental actions that preclude the use of a hotel property can trigger business interruption coverage under "civil authority coverage" extensions or riders to commercial policies. These clauses might provide insurance coverage for losses resulting from state and local quarantines, for example, that restrict public gatherings. Commercial insurers will likely argue that quarantine orders affect people, not properties, but that argument might be contrary to history and specific policy language.
Contingent Business Interruption Insurance Coverage
Policies that include "contingent business interruption" extensions or riders might provide reimbursement for lost hotel revenues, for example, associated with supply chain interruptions, canceled events, or loss of use due to decontamination or cleanup.
Industry observers expect commercial insurers to reject civil authority and contingent claims (at least initially) for coronavirus-related business interruptions. California hotels should consult with a knowledgeable and experienced business interruption lawyer to verify their coverage and to rebut any coverage denials from their insurance carriers.
Covered Losses for Hotels Under Business Interruption Insurance Policies
Businesses in the travel and hospitality industries are often the first to feel the effects of economic downturns, disasters, and restrictions on movement. Many hotels, airlines, event organizers, and similar businesses have been at the forefront of defining the types of claims and losses that are covered by business interruption insurance.
For example:
In 2003, hotels in Hong Kong successfully petitioned for business interruption insurance coverage caused by the SARS virus;
In 2004, a court awarded a favorable opinion to USAirways against its commercial business interruption insurer over lost business claims related to the September 11, 2001, terrorist attacks;
In 2016, a theater group recovered its losses for canceled outdoor performances following wildfires that impaired air quality.
Hotel business interruption insurance coverage is always a function of insurance contract language and the specific facts that cause the hotel to lose bookings and associated revenues. A California hotel that has lost substantial business due to COVID-19 quarantines and cancellations should carefully review their commercial insurance policies and should either notify their insurers or file their claims promptly.
Use Hotel Records to Prove COVID-19 Business Interruption Losses
Hotels should keep detailed records of bookings and payments, as well as pending reservations, cancellations, and special events. A successful business interruption insurance claim by any hotel in Los Angeles or elsewhere in California will necessarily include this and other information to verify coronavirus business losses. Hotels will have a better chance to recover insurance reimbursements for lost revenues when those records are thorough, straightforward, and verifiable.
California Insurance Regulators are Encouraging Business Interruption Payments
California's insurance commissioner has imposed new requirements on insurance companies to conduct full and fair investigations of all business interruption claims relating to losses from the COVID-19 virus. Insurance companies that are authorized to issue policies in California are specifically obligated to comply with their obligations under insurance contracts, to promptly acknowledge claims and provide all necessary forms and information to file claims, and to issue notices of acceptance or denial within 40 days after receiving a claim.
Given these enhanced requirements, an insurer's denial of a hotel's coronavirus business interruption claim will likely draw greater scrutiny from the state's insurance regulators.
Call for Assistance with Business Interruption Insurance and Coronavirus Claims
Hotel bookings and revenues will recover. Until then, hotels should not hesitate to file business interruption claims under their commercial liability policies.
A Los Angeles business interruption insurance lawyer from Salamati Law Firm is a hotel's best resource to process and file claims and to appeal claim denials. Please call Salamati Law's Los Angeles offices to schedule a consultation with one of our lawyers today.
Additional Resources: