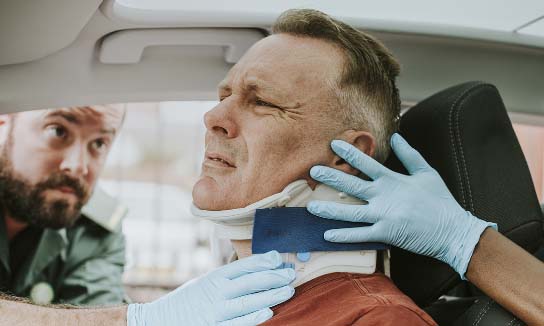 If the negligence of another party is responsible for harming you– whether in a car accident, premises liability, medical malpractice, defective products, or other causes—it can result in medical expenses, serious injuries, and the inability to enjoy your life. If this has happened to you, contact us at Salamati Law for a free consultation. We understand how this can upend your life. We are fierce and compassionate advocates for our clients. Reach out to a Beverly Hills personal injury lawyer today.
Common examples of personal injury lawsuits
At Salamati Law, we can assist you with a wide range of negligence cases. Our firm has extensive experience handling personal injury cases, including:
Car accidents. Car accidents make up the largest single cause of personal injury lawsuits in Beverly Hills. These collisions routinely result in serious injuries for the occupants in each vehicle.
Slip and falls. If you fall on the property of another person, they could be responsible for your damages. A slip and fall lawyer could help you understand your rights in these cases.
Defective products. Defective products can cause serious injuries. Some examples include children's toys, motor vehicles, food, and medicine.
Medical errors. Acts of medical malpractice have the potential to cause severe injuries. You could hold the medical professional accountable for your damages.
Compensation in a personal injury lawsuit
If your personal injury lawsuit is successful, there are different types of monetary compensation you might recover. The amount varies depending on a few factors, including the extent of your injury and whether or not the defendant had insurance. A Beverly Hills personal injury lawyer could help you understand the types of damages you may recover.
Lost wages. Even relatively minor injuries could have an impact on your professional career. You could miss days, weeks, or months of work. Compensation for these lost wages may be possible through a civil lawsuit.
Medical bills. Costly medical care can quickly overwhelm a family's budget. Some examples include the cost of surgeries, hospitalization, or physical therapy.
Pain and suffering. Severe pain is usually an unavoidable part of a serious injury. Chronic pain can become a part of your life. You could be compensated based on its severity.
Injuries that could result in a civil lawsuit
Some of the most common injuries that lead to civil claims include:
Internal bleeding
Amputation
Deep cuts and lacerations
Severe burns
Concussions and other traumatic brain injuries
Spinal cord damage
Sprains and strains
Eye injuries
If you are unsure how to proceed with a civil case following any of these injuries, the good news is that you do not have to take on this challenge by yourself.
Contact a personal injury attorney in Beverly Hills, CA
If you were hurt through no fault of your own, now is the time to seek out the guidance of a personal injury attorney in Beverly Hills. Our firm is ready to help you fight for the compensation you deserve.
Whether you need a personal injury or wrongful death lawyer, Salamati Law is here to help. We are proud of our long history of fighting for the injured. We are prepared to aggressively pursue compensation on your behalf and are ready to advise you of your legal options. Call right away for a free consultation.