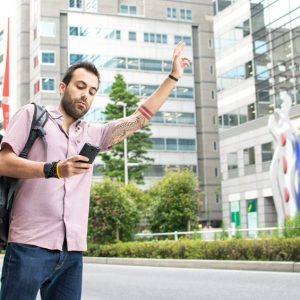 There is no doubt Uber has revolutionized transportation, but many drivers and riders are unaware of the liability issues ride-sharing accidents raise. Unfortunately, it is often not until someone experiences a ride-sharing accident that they realize what is and is not covered by insurance. If you drive for or ride with Uber, Lyft, or another ride-sharing company, it pays to find out before an accident occurs. If you have already been in a ride sharing accident, speak with a Los Angeles Uber accident attorney.
Ride-sharing liability issues in California
Uber and Lyft, termed "Transportation Network Companies" in California, fall somewhere in between commercial taxi companies and personal vehicle use, leading to unique rules affecting liability.
Independent contractor v. employee: Since ride-sharing relies on personal vehicles of non-commercial drivers, the drivers maintain their own vehicles, set their own schedules, and do not display signage of the company for which they drive. In the event of an accident, Uber consistently maintains that drivers are independent contractors, so the company is not responsible for its actions. In California, Uber drivers are viewed as independent contractors for employment issues, but there has been a push to view them as employees in the case of accidents. If drivers were considered employees, the company would be liable if the driver is negligent.
Insurance coverage: Many people falsely assume that the driver's personal insurance policy will provide coverage in case of an accident, but personal auto policies typically exclude driving for hire. Uber and Lyft both provide insurance coverage but it is important to know what it covers and when it applies. Uber drivers may also wish to protect themselves by purchasing add-on ride-sharing coverage through an auto insurance company.
What does Uber insurance cover in California?
Uber provides some insurance coverage to its drivers, and in California the coverage is different than in most other states. The amount and terms of coverage depend on what is referred to as service periods:
Period 1
App is on; Driver is available and waiting for rider
In California, $50,000 liability per person/$100,000 per accident; $30,000 property damage; $200,000 excess liability
Period 2
Driver en route to rider
$1 million liability; $1 million uninsured/underinsured injury; Collision and Comprehensive if it is also offered on driver's personal policy
Period 3
Rider on board; trip in progress
In plain English, Uber insurance often covers someone else's loss if the driver is at fault. If you are the driver and are injured or experience property damage, you may need to sue the other driver because it is not covered unless you were en route or in process of a ride and you have comp and collision coverage on your own policy.
Consult a California car accident lawyer
Uber is a convenient service when needed, but it adds a layer of complexity when it comes to sorting out liability. If you have been injured in an Uber accident, speak with a Los Angeles car accident lawyer to find out whether the ride-sharing company may be liable; experienced attorneys at the Salamati Law Firm are ready to speak with you. The initial case review is free and we never charge a fee unless we win you money.
Additional "Uber Accident Liability" Resources:
Uber, Insurance: How you're covered, https://www.uber.com/drive/insurance
Uber, Insurance Update for California Driver-Partners, https://www.uber.com/blog/california/insurance-update-for-california-driver-partners/
Nerdwallet, Rideshare Insurance for Drivers: Where to Buy, What it Covers, https://www.nerdwallet.com/blog/insurance/best-ridesharing-insurance/