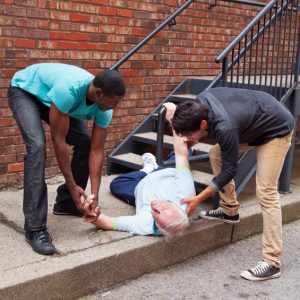 It's a safe bet that everyone is prone to a little clumsiness from time to time. But sometimes, people fall and sustain serious injuries because of the negligence or recklessness of another person. If you were injured on someone else's property, or on public property, you may have the basis for a personal injury lawsuit.
An experienced Los Angeles personal injury lawyer can evaluate your case and advise you about the potential for a legal claim. Choosing the right slip and fall lawyer in Los Angeles is crucial, so it's worth taking the time to do a little background research to ensure you pick the right personal injury attorney.
Extensive experience with personal injury lawsuits
It goes without saying that it's best to choose a personal injury lawyer in downtown Los Angeles who has litigated these types of cases before. For slip and fall cases in particular, it's helpful to choose a law firm that has litigated claims in both state and federal courts, as premises liability lawsuits may name governmental entities as defendants.
Law firm resources, legal team, and consultants
Personal injury lawsuits can be complicated. Slip and fall cases often require evaluation and input by outside professionals, such as accident reconstruction experts, investigators, and medical specialists. Look for a personal injury attorney that has established relationships with these types of outside consultants, and has the resources necessary to bring them on board for your case.
Commitment to ongoing communication and client education
Some lawyers have developed a reputation for being difficult to get ahold of on the phone. If you're stressed about your case and your mounting medical bills, the last thing you need is a lawyer who never picks up the phone.
Look for a law firm that is committed to keeping you apprised of the status of your case. Your slip and fall lawyer should also fully inform you of the legal issues involved. Client education is essential for good decision making.
An overview of slip and fall incidents in southern California
A slip and fall accident can happen anywhere. If it happens on someone else's property, the property owner or manager may be held liable for your injuries, depending on the circumstances. Some common places for slip and fall injuries in the CA area include restaurants and bars, since liquids may be spilled on the floor frequently, creating a hazardous condition. Other common locations of slip and falls include:
Museums
Malls
Retail stores
Government buildings
Office building
The Salamati Law Firm in Los Angeles is a leading choice among slip and fall victims because of our personalized approach, attentive service, and long track record of successfully recovering compensation on behalf of our clients. Our slip and fall lawyers in Los Angeles provide reliable legal guidance so that you can make a smart decision in the wake of an accident. Our legal team may help you recover compensation for your medical expenses, lost wages, and pain and suffering. Contact us today to set up an initial consultation.
Additional resources about slip and fall accidents
Medscape, Falls in the Elderly: Causes, Injuries, and Management, https://reference.medscape.com/features/slideshow/falls-in-the-elderly
Centers for Disease Control and Prevention, Important Facts about Falls, https://www.cdc.gov/homeandrecreationalsafety/falls/adultfalls.html