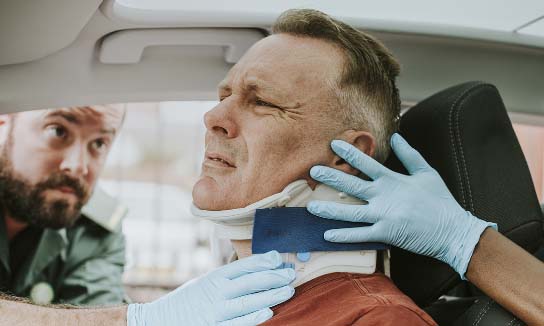 Accidents happen every day in Paramount. While some of them result from unavoidable bad luck, others are entirely preventable and are caused by another party's negligence. The latter can result in a civil lawsuit.
If you have been injured, it could be time to speak with a personal injury lawyer from our firm. The team at Salamati Law is proud to advocate for the injured, and we could help you secure the compensation you deserve. Let a Paramount personal injury attorney guide you through each step of the litigation process.
When do I need a Paramount personal injury lawyer?
There are many situations where our firm could help you pursue compensation for your injuries with a personal injury lawyer in Paramount. Some examples include:
Slip and fall accidents. If you suffer injuries in a fall on another person's property because they didn't fix a hazardous situation– a slip and fall lawyer could help you seek justice.
Car accidents. Accidents are common in Paramount, with many resulting in serious injury.
Medical malpractice. Mistakes by medical providers can result in avoidable illness or injury. When doctors, nurses, or administrators make mistakes, our firm could hold them accountable.
Truck accidents. Large commercial vehicles can cause significant damage when they collide with smaller passenger cars. The injuries sustained in these accidents are often catastrophic.
Our firm is ready to discuss your injuries during your free consultation. In addition, you will have the opportunity to discuss the value of your case and learn more about the process in general.
How long do I have to file a lawsuit?
You have the right to pursue legal action if another party caused your injuries. However, it is essential to understand that right will not last forever. A legal deadline—the statute of limitations—applies to all civil lawsuits in Paramount. Personal injury claims are no exception.
In most cases, the statute of limitations expires two years from the date of the accident. A personal injury lawyer in Paramount will advise you on this and other important deadlines. The consequences of filing your case after the statute of limitations expires are steep. You can expect the other side to move to dismiss the case immediately.
Recovering compensation for your injuries
If you are ultimately successful in your personal injury case, you could be entitled to recover an array of monetary damages. Some of these damages are economic, like the cost of your medical care. Others are non-economic and thus more subjective– like compensation for your pain and suffering. In either case, our firm could help you secure what you deserve. Some of the types of compensation commonly recovered in personal injury cases include:
Lost wages
Past and future medical bills
Pain and suffering
Mental anguish
Disfigurement
Diminished future earning power
Property damage
Contact a personal injury lawyer in Paramount
You never have to seek justice following a serious injury on your own. A personal injury attorney in Paramount, CA, could work with you to ensure you have the best chance of obtaining a favorable outcome in your case.
The team at Salamati Law is here to assist you through every phase of your injury case. If you have questions, the initial consultation is always free. To learn how a personal injury or wrongful death lawyer might be able to help, reach out right away for your free consultation.