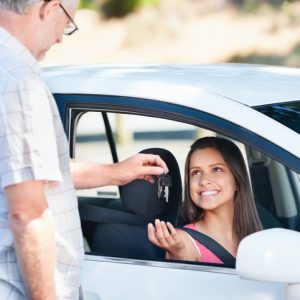 Children in southern California are heading back to school for the start of a new school year. If you have teens who are just starting to drive, there's no time like the present to give them valuable lessons on teenage driver safety.
In the last year for which statistics are available, 2,333 teenagers between the ages of 16 and 19 were killed in vehicle crashes across the country — in other words, six every day, according to the U.S. Centers for Disease Control and Prevention.
Another 235,845 teens in this age group went to emergency departments with injuries sustained in vehicle accidents during the year. That's an astonishing 646 teens per day.
Safe Driving Rules
Make sure your children know how to drive safely. Don't assume that passing their driver's test is enough. Either teach them, have an experienced adult teach them, or enroll them in safe driving courses. Focus on obeying the rules of the road, including the speed limit.
Emphasize the importance of seat belts. Forty-eight percent of teenagers who die in vehicle accidents are not wearing seat belts. If they will be driving other students to school, stress that younger children should be both in the back seat and bucked in, and everyone, of any age, needs to wear a seat belt.
If they are driving with other teenagers, be especially careful. The risk of accidents rises when teens drive with other teens in the car. In fact, the CDC recommends keeping the number of teen passengers to 0 or 1 for the first six months your child has a license.
Caution Teens About Distracted, Drowsy, and Impaired Driving
Distracted driving, or driving while texting, talking on the phone, playing a video game, or just gazing around instead of looking is a growing threat to vehicle safety across the country. In the last year for which statistics are available, almost 3,500 people (of all ages) were killed in distracted driving-related accidents, and 391,000 were injured. Teenagers are believed to be the largest group of distracted drivers.
Drowsy driving is nearly as dangerous. Make sure your teenager gets enough sleep. If they are unable to get enough sleep, consider making them take another form of transportation. Being drowsy slows reaction time and leads to a greater risk of collisions.
Fortunately, many schools have programs concerning the risk of driving under the influence (DUI) of alcohol in high school. Reinforce the message. Don't drink and drive. Even a single drink can raise the risk of a motor vehicle accident.
If your school doesn't have such a program, discuss how to avoid drinking and driving with your teenager. If they are going to a party, they should either not drink or choose a designated driver.
When You Need a Car Accident Lawyer in the Los Angeles Area
It's imperative to stress the importance of safe driving to your teenager. But the sad fact is, hundreds of car accidents happen in southern California every day.
If you or a loved one is hurt or killed in a car accident, call the Salamati Law Firm today. We are experienced Los Angeles car accident lawyers. Your case will be reviewed by seasoned professionals and there is no charge to you for an initial consultation.
Additional Resources:
National Safety Council. Back to School Safety Checklist. https://www.nsc.org/home-safety/seasonal-safety/back-to-school.
U.S. Centers for Disease Control and Prevention. Teen Drivers: Get the Facts. https://www.cdc.gov/motorvehiclesafety/teen_drivers/teendrivers_factsheet.html
U.S. Centers for Disease Control and Prevention. Parents Are the Key to Safe Teen Drivers. Eight Danger Zones. https://www.cdc.gov/parentsarethekey/danger/index.html