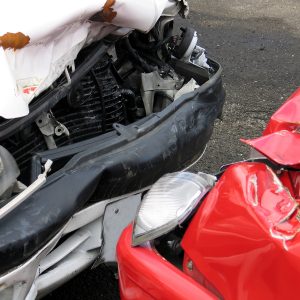 Proponents of self-driving cars have championed the technology with the promise that eliminating human driver error would make the roads safer. On March 18, the flaw in that assumption was made crystal clear when a pedestrian was killed by a self-driving Uber vehicle.
As investigators work to pin down all of the factors in the unfortunate crash, there are already some liability issues coming under scrutiny.
Pedestrian killed by self-driving Uber car
The theory behind the push for self-driving cars is that high-tech sensors would have more accurate perception than a human eye and that an automated vehicle response would be faster than a human's could possibly be. This did not prove true on the evening of March 18th in Tempe, Arizona, when 49-year-old Elaine Herzberg was struck and killed by an Uber SUV.
According to reports, the SUV had a human backup driver who was behind the wheel and had the ability to take control if necessary. However, in-vehicle camera footage shows the backup driver, 44-year-old Rafael Vasquez, looking down toward a cell phone until just a second or two before Herzberg became visible to the exterior camera.
Footage shows a look of horror on Vasquez's face just before the SUV struck Herzberg and the bicycle she was walking across the street. Officials reported that she died in the ambulance on the way to the hospital.
Liability issues raised in the self-driving car accident
Reports indicate that there are a number of factors that could impact liability.
Could the backup driver have avoided the accident if paying attention? Vasquez was clearly not watching the road while Herzberg was crossing the street outside of a crosswalk in the dark. Some have questioned whether the accident would have been avoidable.
The Uber was outfitted with both laser and radar sensors intended to detect and respond to obstacles in the road. The manufacturer of the laser alleges that Uber disabled some of the safety sensors before the crash and that, if fully functioning, the vehicle would have been able to automatically slow down to avoid the accident.
Newspaper reports indicate that Vasquez had a criminal history that involved more than three years served for armed robbery and this should have prevented hiring by Uber, under its own policies. Last year, Uber was fined $8.9 million in Colorado for hiring more than 60 felons, who are ineligible under Colorado law to provide ride-sharing services.
The more parties involved and the potential flaws in question, the more technical a personal injury case can become. New technology like autonomous cars will further complicate the fact-finding and legal argument processes.
Uber accident lawyer in California
For the moment, Uber has suspended its testing of autonomous cars around the country. But Uber may resume testing, and there are many other companies currently working on self-driving cars.
As the technology continues to add complexity to legal liability issues, it is crucial for those injured in autonomous car accidents to speak with an expert in the area.
Sean Salamati, a proven car accident lawyer in Los Angeles, is committed to helping victims of preventable accidents recover maximum compensation for their losses. We offer free consultations and we never take a fee unless and until we secure an award on your behalf. If you've been in an Uber accident in Los Angeles, call 855-463-7309 today to schedule your free case review.
Additional resources on fatal self-driving Uber crash:
Chicago Tribune, Experts: Uber self-driving system should have spotted woman, http://www.hurwitassociates.com/tax-exemption/irs-form-1023-ez-frequently-asked-questions#9
Fox News, Uber disabled safety component in self-driving car before fatal crash, company alleges, http://www.foxnews.com/us/2018/03/27/uber-disabled-safety-component-in-self-driving-car-before-fatal-crash-company-alleges.html