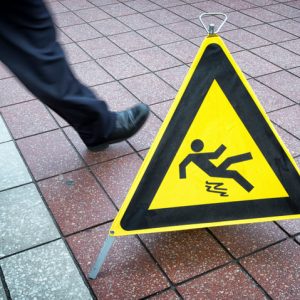 If you've ever slipped and fallen on a wet or waxed floor, you know it can happen in an instant. One minute you're walking along. The next minute, you could be flat on your back.
Unfortunately, slip and fall accidents on a wet or waxed floor can be more than sudden. They can be extremely dangerous. Slipping and falling can cause fractures, sprains, concussions, traumatic brain injury (TBI) and lacerations. They can cause people to lose time from work and suffer the economic consequences.
A Los Angeles personal injury lawyer can help you recover from these accidents but, in the worst case, they can be deadly.
Who bears the responsibility?
But who is responsible for a slip and fall accident on a wet or waxed floor?
According to California law, the management of commercial establishments must keep their premises safe at all times. If they do not, they are responsible for accidents that occur as a result of unsafe conditions. They can be held accountable for injuries under premises liability statutes if their establishments — stores, hotels, malls, anywhere a consumer might encounter a wet or waxed floor — have unreasonable dangers.
Injured by a Wet or Waxed Floor? Click Here to Call Our Office Now
But, if we consider wet or waxed floors, we will realize that there are different levels of responsibility.
If an employee has been mopping or waxing a floor, or is in the midst of so doing, the floors may be dangerous to walk on. For that reason, the employee should place signs clearly demarcating the recently mopped or waxed floor as recently worked on. They should urge passers-by to exercise caution while walking. Better yet, if the floor is truly unsafe, they should rope it off until it is dry again.
If this is done, and a guest ignores the signs and walks anyway, a court might find the injured party responsible or partly responsible for any accident that follows.
But if an employee is mopping or waxing and takes no safety precautions, a court might find for the plaintiff, since the defendant breached their duty of care.
Click here to call now for a FREE consultation!
Premises liability and duty of care
But say that a floor gets wet not as a consequence of anything a store employee does. It may be raining, and people's outerwear or umbrellas track water on the floor. In a busy mall, someone may spill coffee or a bottle of water. In a grocery store, someone may drop a product that they were planning to buy. It if breaks, it could result in a wet floor.
In circumstances like this, business owners or the people responsible for the premises still are obligated to keep the premises safe to walk on. But they must also 1) know that the premises have become unsafe and 2) have had a reasonable amount of time to make the premises safe again.
So in a hotel, store, or mall, management should know within a reasonable amount of time that rain water or spilled liquid is on the floor. They should dispatch someone promptly to cordon the area off until the liquid has been mopped up.
If they do not fix the situation in a reasonable amount of time, a court might find them liable for any ensuing accident.
Slip and fall attorneys in Southern California
The Salamati Law Firm has an exceptional track record of securing justice for their clients, helping them achieve the best possible results following a serious personal injury.
If you or a loved one is in need of a trusted slip and fall lawyer in Los Angeles, call 800-957-9898 to schedule a complimentary consultation.
Additional Resources on Slip and Fall Liability:
Insurance Information Institute. Insuring Your Business: Small Business Owners' Guide to Insurance. Controlling Liability Risks http://www.iii.org/publications/insuring-your-business-small-business-owners-guide-to-insurance/risk-management/controlling-liability-risks
LA Times, City settles slip-and-fall case for $30K http://www.latimes.com/tn-gnp-city-settles-slipandfall-case-for-30k-20140125-story.html