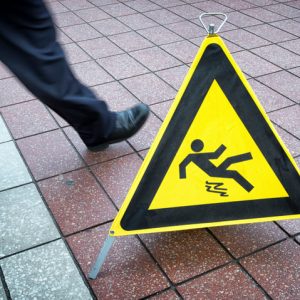 People who have slipped and fallen might not be sure what to do right after the accident happens. In fact, they may want to get to a doctor right away, especially if they are bleeding or feel they have broken a bone, twisted an ankle, or otherwise hurt themselves. A personal injury lawyer can help advise you on your next steps.
Gather a Record of the Conditions and Your Injuries
While it's very wise to go to a doctor as one of the first steps, because getting treatment is highly important for your health and recovery, you also need to make sure that you have a record of what occurred and have alerted the proper authorities. So don't delay getting medical attention, but make sure that you have pictures or notes on what happened in the immediate aftermath.
Why? Well, if you want to recover damages in a trial or settlement to cover your medical bills, lost wages, and more, the fact is, a court will need evidence of what happened. In fact, your doctor or hospital visit will be part of the evidence, because any doctor or hospital will keep records of your injuries and the treatment advised. This will be a crucial part of the case that your Los Angeles personal injury attorney will help you make in court.
For the victim of a slip and fall accident to receive damages, the court must find the other party negligent. That means a party, such as a landlord or store owner, had a duty of care to keep a specific area safe, should have known if it had become unsafe, had enough time to make it safe, and didn't.
The fact is, many negligent parties will try to argue that the party injured in a slip and fall caused it themselves. They may claim that an area, such as a broken sidewalk or slippery floor, wasn't dangerous. They may argue that it was clearly marked or surrounded with cones indicating it wasn't to be walked on.
And they may win, unless you have evidence.
What You Should Do After a Slip and Fall Accident
So here some steps to follow in the immediate aftermath of a slip and fall in California.
1. Take pictures of your injuries
Take pictures of your injuries with your smartphone. Bruises, cuts, torn clothing – anything that injured you and shows impact.
2. Take pictures of the area
Take pictures of the area where you slipped and fell, from all angles. Don't wait until it is cleared away and cleaned up.
3. Get the contact information of any witnesses
If anyone saw you slip and fall or witnessed the area where you fell, get their contact information.
4. Contact the manager if it's a retail establishment
If your slip and fall accident occurs in a retail establishment like a store or restaurant, contact the manager before you leave. The manager needs to know of the dangerous area. Also, a court might wonder if you leave without reporting it.
Slip and Fall Injury in the Los Angeles Area? Call Sean Salamati
Sean Salamati is an experienced slip and fall lawyer in Los Angeles. Sean will fight for your rights if you have been hurt because of someone else's negligence. Call today for a free consultation. We charge no fees unless we win money for you.
Additional Resources:
National Restaurant Association. Don't Trip Up: Preventing Slips and Falls. https://www.restaurant.org/Manage-My-Restaurant/Operations/Back-of-House/Dont-trip-up-Preventing-slips-and-falls
National Safety Council. Slip, Trip and Fall Prevention Training. https://www.nsc.org/safety-training/workplace/slips-trips-and-falls