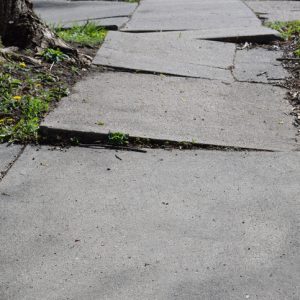 There are many possible causes for a sidewalk trip and fall, but the liability often lands squarely on the property owners' shoulders. A slip and fall lawyer in Los Angeles can help you make that determination.
The City of Los Angeles has battled sidewalk liability issues over the last decade. They've faced lawsuits waged by the people behind the Americans With Disabilities Act. They were sued by activists opposing the Glendale-Hyperion Bridge design. City officials agreed to invest $1.3 billion to fix the 40% of its sidewalks that were in desperate need of repair. Over a four-year period, they paid out more than $6 million in trip and fall lawsuit payouts, according to the city attorney's office.
Six causes of sidewalk trip and fall accidents
Weather Conditions – Though property owners are legally obligated to clear any public paths they own, it can be difficult to prove these cases without photographic evidence taken at the time of injury. There are many defenses a person can raise as to making a "reasonable effort" to clear hazards caused by weather conditions. Proper drainage should be installed to prevent water buildup on the sidewalks.
Uneven Surfaces – As little as 1/4-1/2" can catch a pedestrian's shoe. Uneven sidewalks typically occur when base materials shift, causing part of the cement to shift – or when tree branches push up underneath.
Surface Damage – Bumps, potholes, deep cracks, and loose gravel pieces are a leading cause of tripping. Defendants often try to minimize cosmetic damage to the sidewalk, calling it "too insignificant" to cause a person to trip. That's when it's very handy to have an aggressive legal team backing your claim!
Pedestrian Inattention –Texting or using a cell phone while walking, being preoccupied with a leashed dog or child, drinking and walking, fiddling with an MP3 player, horsing around with a friend, or generally not watching where you're walking can place some of the liability onto you. Sometimes pedestrians are accused of wearing "improper footwear" for the conditions or the activity.
Dangerous Walking Conditions – In rare instances, property owners have placed some type of obstacle on the sidewalk that causes a person to trip and fall – be it a construction cone, a bicycle, children's toys, signage, work tools, garbage, or some other type of debris.
Improper Sidewalk Design – Another rare argument made in court is that the sidewalk was poorly designed. Sidewalks can be too narrow, in areas overgrown by trees and vegetation, poorly lit, made with insufficient materials, poorly leveled, or not cured all the way. Sometimes sidewalks were built to code many years ago, but the codes have changed and they no longer comply.
Who is liable in a sidewalk trip and fall incident?
Sometimes a true accident occurs, and no one is at fault. However, there are several scenarios where negligence directly causes or contributes to a trip and fall accident. Liable parties may include:
Property Owners – Homeowners are responsible for keeping a level sidewalk and repairing any known damage to the surface. Most of the time, it is presumed the homeowner should know about the damage by inspecting his or her property on a regular basis. A reasonable person would note the damage, call contractors, or actually conduct the repair in an effective manner.
Local or Federal Governments – If you are walking on a public sidewalk owned by the government, the city itself may be responsible for your trip and fall injuries. If you were walking past a federal building, it's possible the federal government owns the sidewalk. It is important that you make your claim against the proper government entity, or a judge could bar claim from court. There are also tight deadlines in place – usually 30 days – to notify a government entity about what happened. And, often, there is a cap on how much money you may seek in a lawsuit against a government entity — sometimes well under $100,000.
You – By California's "comparative negligence" law, defendants can accuse the plaintiff of being at least partially at fault for what happened to reduce their obligation. The total amount received can be reduced if there is proof that the pedestrian was distracted or not watching where he or she was going. It is important that you watch your words when speaking with authorities, so they don't come back to haunt you in court.
How Southern California trip and fall attorneys can help
In Southern California, Salamati Law aggressively fights for plaintiffs who have been injured in sidewalk trip and fall accidents. An experienced personal injury lawyer will make sure you get the right claim filed, in the right time frame. We anticipate any attempts by the other side to dodge liability and blame you for what happened. Our panel of expert engineers, city inspectors, law professors, doctors, insurance adjusters, and others will help you build a winning case. Contact Los Angeles personal injury attorney Sean Salamati for a free case review today.
Additional sidewalk slip, trip and fall injury resources:
University of Wisconsin, Accident Prevention: Slips, Trips and Falls, http://www.uwosh.edu/ehs/campus-health-and-safety/general-safety/occupational-safety/accident-prevention-slips-trips-and-falls
Heimer Engineering, Walkway, Path, And Sidewalk Slip, Trip, And Fall Accidents, https://www.heimer.com/Licensed-Professional-Engineer/Walkway-Path-Sidewalk-Slip-Trip-and-Fall-Injury.html
Curbed Los Angeles, Where the Sidewalk Ends…In a Tree Root-Related Lawsuit, http://la.curbed.com/2011/10/20/10432190/where-the-sidewalk-endsin-a-tree-rootrelated-lawsuit
LA Times, L.A. agrees to spend $1.3 billion to fix sidewalks in ADA case, http://www.latimes.com/local/lanow/la-me-ln-lawsuit-broken-sidewalks-20150331-story.html
LA Times, Activists sue Los Angeles over Hyperion Bridge design's single sidewalk, http://www.latimes.com/local/lanow/la-me-ln-hyperion-bridge-lawsuit-20150710-story.html
Next City, Suing for Sidewalks, https://nextcity.org/features/view/ada-compliance-accessible-design-cities-lawsuits-doj