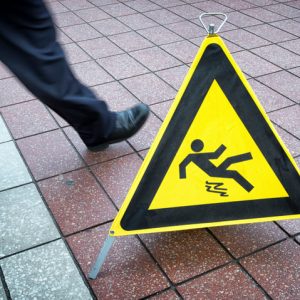 In the movies, someone slipping on a banana peel is a time-tested laugh-getter. In real life, slipping and falling can be serious indeed. According to the United States Centers for Disease Control and Prevention (CDC), 33,381 people died as a result of unintentional falls last year. Each year, 25% of people over the age of 65 fall. Falls are one of the leading causes of injury and death in workplaces like construction sites. As any slip and fall lawyer in Los Angeles can tell you, these kinds of accidents happen far too often.
The consequences of slipping and falling can range from a twisted ankle to spinal cord or head injuries that can impair functioning and mobility for the rest of one's life.
It stands to reason that people need to be careful about slipping and falling. But where do slips and falls mostly commonly take place? Here are four places where slip and fall accidents are most frequent.
1. Sidewalks
Sidewalks are built to facilitate safe walking. Unfortunately, sidewalks that are not well maintained may develop cracks and may deteriorate, making walking dangerous. Weeds can even start poking through the sidewalk, which will cause it to crack even more. It's easy to trip and fall on a poorly maintained sidewalk.
2. Wet floors in stores and restaurants
Wet floors can easily cause patrons of stores and restaurants to slip and fall. In stores, wet floors can be caused by slipped liquid from a product — or even from someone's spilled water bottle. In restaurants, servers or patrons may inadvertently spill beverages. Cleaning such as mopping or waxing will also make a floor wet.
Store managers and employees should move to place warning cones around a wet floor, and should clean up the area quickly.
3. Workplaces
Slips and falls are frequent in workplaces. On construction sites, for example, workers frequently are employed at high altitudes and walls or stairs that might make falling impossible in a finished building may not yet be completed.
Poorly maintained workplaces where floors are piled high with equipment, boxes, or even debris can also cause slip and fall accidents.
4. Stairs, Escalators, and Elevators
Areas where movement from one story to another take place are frequent sites of slip and fall accidents.
Stairs that are poorly maintained, lack banisters, or have old or torn carpet can be especially dangerous.
So can escalators that have been shut down — if they start abruptly again, people can be caught or thrown as they try to climb up.
Similarly, elevators that have stopped and then start again can cause a fall to passengers.
Both incidents can result in a trip to the hospital and a call to your local personal injury lawyer.
When You Need a Slip and Fall Lawyer in Southern California
California law is very clear on premises liability. Property owners are responsible for maintaining the safety of their buildings and grounds. If an area is dangerous, or if they should have known it was dangerous, they must fix the unsafe condition. Failure to do so is negligence, and a court can find them responsible for accidents that happen in the Los Angeles area due to lack of reasonably safe conditions.
If you feel you or a loved one was the victim of a slip and fall due to the negligence of another, please call experienced Los Angeles slip and fall lawyer Sean Salamati today. There is no charge to you for an initial consultation, and you owe us no money unless we win money for you.
Additional Resources:
National Institute for Occupational Safety and Health (NIOSH). Workplace Solutions. Preventing Slips, Trips, and Falls in Wholesale and Retail Trade Establishments. https://www.cdc.gov/niosh/docs/2013-100/pdfs/2013-100.pdf
United States Centers for Disease Control and Prevention. National Center for Health Statistics. Accidents or Unintentional Injuries. https://www.cdc.gov/nchs/fastats/accidental-injury.htm