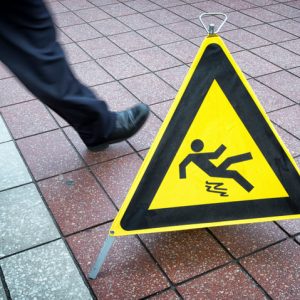 Slip and fall accidents are responsible for thousands of injuries every year, in businesses, homes, and on streets.
People who slip and fall are often disoriented. They may be injured. They may be embarrassed. They may simply want to get home.
But it's very important to take the right steps after a slip and fall accident. Businesses and private property owners must take reasonable care to maintain their premises in a safe condition. If something occurs to make the premises unsafe, such as spilled liquid or rain, they must take steps to clear up the unsafe conditions, including placing warning signs around the area.
Click Here to Call Our Office Now
Businesses and private property owners can also be responsible for sidewalks that are directly in front of their property.
If they don't do this, they can be found liable for any injuries in a slip and fall. But injured people need evidence of their injuries, and they need evidence of what the conditions were. Immediately leaving the scene could mean that you don't have a record of what happened, and thus you don't have evidence. This will make it much harder for your Los Angeles personal injury attorney to present your case.
Here's what you need to do after a slip and fall accident.
1. Get medical attention
If you are injured in a slip and fall accident, the first thing you need to do is seek appropriate medical attention. Don't wait! Falls that resulted in your hitting your head could cause a concussion, for example, which can have serious consequences. You may feel okay, but still have serious injuries.
Be sure to tell your doctor everything that happened. If you bring a legal claim, those records can be used.
Have you been injured? Click here to call us for a FREE consultation!
2. Report the incident
Second, you need to report the incident to the person in charge. This could be a store manager, a landlord, or whoever would be responsible for the area.
They need to know that a condition exists that needs to be fixed. In addition, if you have a legal claim that goes to trial, a jury might find it odd that you never reported the incident.
3. Take pictures and keep a record
In today's world, many people carry a smartphone with a camera. For slip and fall victims, that's actually good news. One of the most crucial things you can do is collect evidence of your slip and fall accident, and pictures are a great way to make an immediate record.
If you are injured, take pictures of your injury from several angles. Don't wait until bruises have faded or cuts healed.
Take pictures of the area. Show any unsafe places.
If you don't have a phone or camera, take notes immediately on what happened. People tend to misremember once a day or so has passed, so take notes as soon as you can. Write what happened, why, and what occurred as a result.
No fee unless we win. Click to call for a free consultation!
4. Get contact information of witnesses
If people saw you slip and fall, try and get their contact information. They may be called as witnesses in a legal case.
While many business owners and private property owners want to do the right thing, some may try to minimize the situation or even make untrue statements. Witnesses will make sure that you have evidence.
If You Need an Experienced Slip and Fall Attorney in Southern California
Were you or a loved one injured in a slip and fall accident in Los Angeles? Sean Salamati is a Los Angeles slip and fall lawyer who is experienced and aggressive in premises liability cases. Call us today for a free consultation at 800-957-9898.
More tips on what to do after sustaining a slip, trip or fall injury:
National Restaurant Association. Don't Trip Up: Preventing Slips and Falls. https://www.restaurant.org/Manage-My-Restaurant/Operations/Back-of-House/Dont-trip-up-Preventing-slips-and-falls
National Safety Council. Slip, Trip and Fall Prevention Training. https://www.nsc.org/safety-training/workplace/slips-trips-and-falls