If you or a family member has suffered a traumatic brain injury (TBI) as a result of a motorcycle accident, you may face daunting challenges, with large medical bills, potential loss of wages and ability to work, and pain and suffering from the injuries. If your accident was caused by the recklessness and negligence of another party, Los Angeles TBI attorney Sean Salamati  can fight for your rights. The Salamati Law Firm will help you to recover damages for medical expenses, loss of wages and inability to work, and pain and emotional suffering.
Motorcycle accident head injury statistics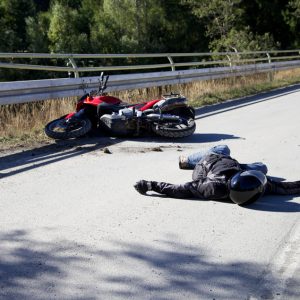 Motorcycle accident head injury statistics from a 2009 report by the National Highway Traffic Safety Administration revealed the value of wearing a helmet while riding. Of the motorcycle crash victims studied, "6.6 percent of unhelmeted motorcyclists suffered a moderate to severe head or facial injury compared to 5.1 percent of helmeted motorcyclists."
The report went on to state, "Fifteen percent of hospital-treated helmeted motorcyclists suffered traumatic brain injury (TBI) compared to 21 percent of hospital-treated unhelmeted motorcyclists."
The seriousness of the TBI varied depending on whether or not the rider was wearing a helmet. According to the NHTSA, "Almost 9 percent of unhelmeted and 7 percent of helmeted hospital-treated motorcyclists received minor to moderate TBI. More than 7 percent of unhelmeted and 4.7 percent of hospital-treated helmeted motorcyclists sustained severe TBI."
Motorcycle riders diagnosed with traumatic brain injury after a crash were more likely to die in the hospital than crash victims who did not suffer from TBI. "While 17 percent of all hospital-admitted motorcyclists had TBI," the report states, "they account for 54 percent of all admitted riders who did not survive."
Types of head injuries from motorcycle accidents
TBIs occur when the head is jostled or hit, causing the brain to rock back and forth in the skull. Motorcyclists, including passengers, are at tremendous risk of TBIs in the event of a crash.
TBIs are frequent in motorcycle accidents for several reasons. First, of course, motorcyclists' entire bodies, including the head, are not surrounding by protective cushioning in the ways motorists' bodies are. The metal and seats in cars and trucks protect motorists. But the body of a motorcyclist, including the head, is very open to danger. Even a minor accident can end up with motorcyclists being thrown from the bike and landing on their head.
Second, the surrounding world can pose a series of dangers to motorcyclists. Crashes can occur as a result of inattentive vehicle drivers, obstacles on the road, poor road repair, or weather. Even a spray of pebbles in a motorcyclist's face can cause an accident that leads to a TBI — and potentially, a life of pain and immobility.
That's one of the reasons wearing a helmet is so important. Twenty percent of motorcyclists in a crash end up with a TBI. For motorcyclists without a helmet, the number is 3 times higher.
TBIs Can Be Life-Altering
The number of issues people with a TBI face is long. Traumatic brain injuries can put people in a coma or cause permanent brain damage. They can be paralyzed for life.
People with a TBI are at greater risk for degenerative brain diseases, such as Alzheimer's, dementia, and Parkinson's disease.
Even more minor TBIs can cause serious complications, such as seizures, memory loss, difficulty recalling information, and loss of the ability to concentrate. Patients may lose the ability to communicate clearly, both in speech and writing. Twenty to forty percent experience vision problems.
Bacteria may enter the skull if there's been a penetrative injury, and cause a serious infection.
Recovery After Motorcycle Accident Head Injury
Patients involved in a motorcycle accident who have sustained a TBI may need medical procedures, sustained physical therapy, and long-term care to fully recover.
Unfortunately, there is no known cure for many injuries, such as paralysis, and other issues related to permanent brain damage. Those patients will likely need permanent long-term care and assistance.
Call an Experienced Motorcycle Accident Lawyer in Southern California
Sustaining a TBI can be a tragedy. If you or a loved one experienced a traumatic brain injury as a result of a motorcycle accident, call The Salamati Law Firm at 800-957-9898. We will fight for your rights to recompense for injuries.
The first consultation with a Los Angeles motorcycle accident lawyer is free. You owe us nothing unless we win money for you. Payment will come from any final jury award or settlement amount.
Additional resources for motorcycle accidents and TBI Injuries: